Jim Carrey became a vocal gun control supporter following the tragic events at Sandy Hook last year, posting a Funny or Die video mocking Charlton Heston and the NRA.
Now, Carrey has come out against the violence in his own film, the upcoming comic book sequel Kick-Ass 2, saying that he refuses to promote it.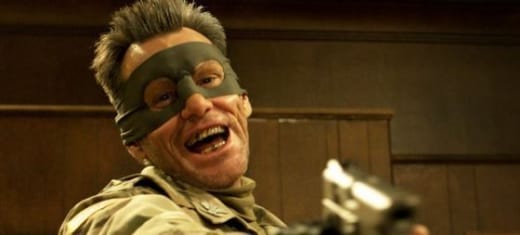 The actor tweeted yesterday, "I did Kickass a month b4 Sandy Hook and now in all good conscience I cannot support that level of violence." He followed that up with a second tweet, stating, "I meant to say my apologies to others involve with the film. I am not ashamed of it but recent events have caused a change in my heart."
Kick-Ass creator Mark Millar responded to the tweets on his personal forum, stating "Kick-Ass avoids the usual bloodless body-count of most big summer pictures and focuses instead of the CONSEQUENCES of violence, whether it's the ramifications for friends and family or, as we saw in the first movie, Kick-Ass spending six months in hospital after his first street altercation...As you may know, Jim is a passionate advocate of gun-control and I respect both his politics and his opinion, but I'm baffled by this sudden announcement as nothing seen in this picture wasn't in the screenplay eighteen months ago."
Millar added, "Ultimately, this is his decision, but I've never quite bought the notion that violence in fiction leads to violence in real-life any more than Harry Potter casting a spell creates more Boy Wizards in real-life."
Do you think Carrey is right to denounce the violence in his own film? Is Kick-Ass 2 too violent? Watch the Kick-Ass 2 trailer to see for yourself.