Monsters University: Charlie Day on His Monster Summer
by Joel D Amos at . Updated at . Comments
What solidified our feeling that Charlie Day is a Monster was our trip up to Pixar to talk to the cast of Monsters University. As can be seen in the Monsters University trailer, Day is a monster who becomes part of a group of friends led by Mike (Billy Crystal) and Sully (John Goodman). But, he is also fighting monsters later in the summer in Guillermo del Toro's Pacific Rim.
"I'm playing both sides of the monsters coin," Day said in our exclusive video interview. "I'm for the monsters and later in the summer I'll turn right around and be against them. I'm a flip-flopper!"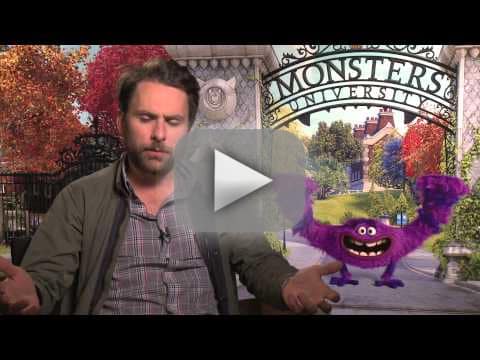 The star of It's Always Sunny in Philadelphia is having quite the career explosion. With his scene-stealing turn in Horrible Bosses, he established himself as a cinematic comedian that could go toe-to-toe with Jason Sudeikis and Jason Bateman. Even with his professional success blooming this summer with appearing in two huge movies -- we still found Day incredibly grounded.
In fact, he was quite humble when speaking about what it means to him to be in a Pixar/Disney movie. "I'm very lucky that the phone rings and someone up here wants you to be a part of what they're doing. And you know you're stepping into an environment with hundreds of people working passionately making something that is both entertaining, funny and touching," Day said.
We had to ask… what's his favorite Pixar movie?
"It's hard to choose. But I do love The Incredibles and I loved Up... they're all great!"