For Monsters University filmmakers, producer Kori Rae and writer-director Dan Scanlon, setting the prequel in college opened a lot of doors. But, they told us in our exclusive video interview at Pixar offices in Northern California -- it also could have provided a landscape too vast. The story needed to be focused.
"We thought the college path would be really entertaining," Scanlon said of the setting for their box office winner. "But, sometimes when you have such a wide open possibility, it can be too much. That's when focusing on Mike's story really helped."
The two are the perfect people to inform us why it is that audiences adore Mike (Billy Crystal) and Sulley (John Goodman). "They're friends. They have that friendship that you have with certain friends where you can goof on each other and it's OK, and that's appealing," Scanlon said.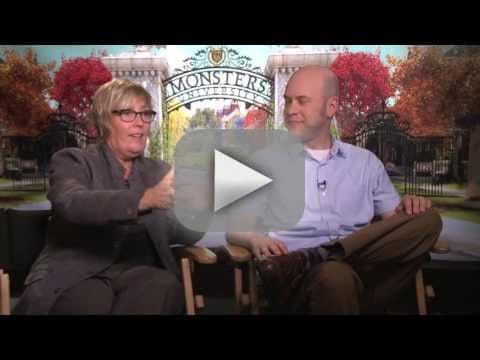 Rae felt that they compliment each other, as do some of the best movie pairings in film history. "It's in the yin and yang of them as characters -- it works," she added.
As we stated in our Monsters University review, the film scores the perfect balance of being an origins story for two of the most beloved animated characters of the last decade, as well as serving as a standalone film that should charm audiences looking for summer movie fun.
The Monsters University trailer fills in some of the blanks, but only hints at the magic that is the return of Mike and Sulley to big screens. The fan base for the Monsters world has only increased exponentially and the film should feed their fire of excitement and so much more as we learn how Mike met Sulley. "We wanted to make a movie that explored the relationship of Mike and Sulley more," Scanlon said. "And that's where the idea of going back came from."