Monsters University: Nathan Fillion Talks Whedon Versus Animation
by Joel D Amos at . Updated at . Comments
It is fitting that Nathan Fillion portrays a hardcore jock in Monsters University, a film starring John Goodman. The latter announced himself to the world in 1984's Revenge of the Nerds as the epitome of a jock. So, when we told Fillion up at Pixar in our exclusive video interview that they should be thought of as jock cinematic bookends, he seemed honored.
As it is animation, the two recorded their parts separately. But Fillion is looking forward to that day when he meets his movie jock kin. "We'll have lots to talk about," he said.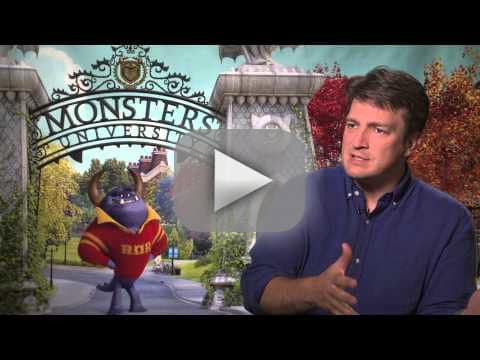 Fillion, currently starring in the hit show Castle, was clearly thrilled to appear in Pixar's latest film, teased brilliantly in this Monsters University trailer. The prequel to Monsters, Inc. finds Mike and Sully first meeting in college… a university called Monsters University where scarers are made.
Fillion's Johnny leads the "jock" fraternity that is sure to win the campus' annual Scare Games, but Billy Crystal and John Goodman's Mike and Sulley might have something to say about that.
The actor also talked about which was harder, finding his inner monster for Monsters University, or tackling Shakespeare as a star of Joss Whedon's Much Ado About Nothing.
"Reciting Shakespeare was much harder," Fillion admitted. "For this, the concern was that I didn't want to do a character-y voice that I would have trouble maintaining. Shakespeare… my God, it's like a different language."