Monsters University Repeats: Weekend Box Office Report
by Joel D Amos at . Updated at . Comments
Although Monsters University took the top spot at the box office for the second week in a row, the big story was how The Heat smoked White House Down. In the battle of new flicks, the Melissa McCarthy-Sandra Bullock buddy cop comedy virtually torched the Jamie Foxx and Channing Tatum White House under attack flick.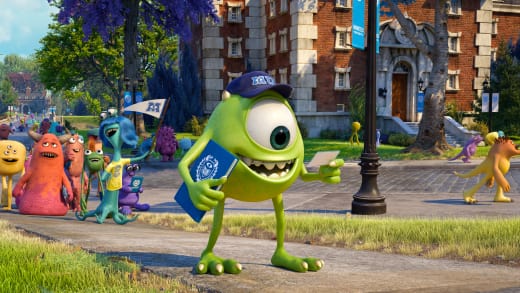 Again, Monsters University may be Pixar's next big hit by finishing first once again… but The Heat showed real moxie by finishing first in the all-important per-screen average. The Paul Feig (Bridesmaids) directed flick earned $12,575 per screen it was shown, with a total take of $40 million, coming in behind Monsters University's $46.2 million.
Perhaps audiences had their fill of White House under terrorist siege movies with the release in March of Olympus Has Fallen. Or, maybe it was the mixed reviews (such as our White House Down review), but the Roland Emmerich-directed flick earned $25.6 million in its first week to finish in fourth.
What finished in third? Why, it's Brad Pitt and his zombie apocalypse, World War Z. The film banked an impressive $29.8 million in its second week of release, bringing the total for the Paramount Pictures film to $123.7 million. That is one impressive blockbuster, for a film that was perceived to have such problems that included pulling out of the Cannes Film Festival and having its release date pushed back twice for re-edits.
Closing out the top five was the latest incarnation of the Superman saga, Man of Steel. The Henry Cavill-starring, Zack Snyder-directed origins story, added to its purse by making $20.8 million… bringing its total in three weeks to $248.7 million. I'd say we'll get a sequel and we might even see that Justice League movie after all.
What will prove interesting is how all of the top five will do next weekend, the July 4 holiday weekend, with Johnny Depp's The Lone Ranger and Steve Carell returning to Gru with Despicable Me 2.
Box Office Top 10:
1. Monsters University, $46.2 million
2. The Heat, $40 million
3. World War Z, $29.8 million
4. White House Down, $25.6 million
5. Man of Steel, $20.8 million
6. This Is The End, $8.7 million
7. Now You See Me, $5.5 million
8. Fast & Furious 6, $2.4 million
9. Star Trek Into Darkness, $2 million
10. The Internship, $1.4 million