Fresh off the release of the Percy Jackson: Sea of Monsters trailer, 20th Century Fox has unsheathed the latest poster. Logan Lerman (The Perks of Being a Wallflower) returns to the role of Percy Jackson, the Demigod son of Neptune, who along with his friends saved the world in the first film in the series based on the books by Rick Riordan.
That film, Percy Jackson and the Lightning Thief, was a smash hit and now the sequel is set to arrive August 7.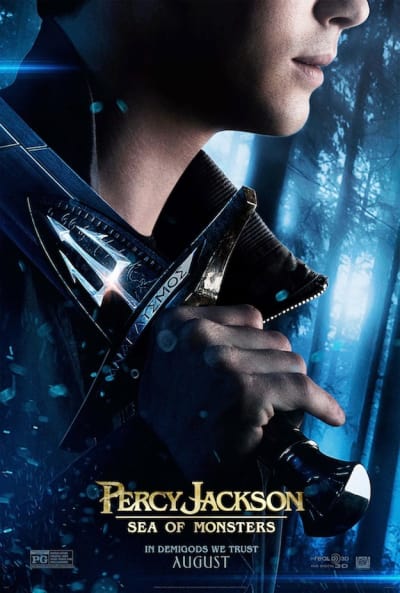 Movie Fanatic was invited to a long lead press day recently for Percy Jackson: Sea of Monsters -- so stay with us for insight from the entire cast. But, until then, enjoy the above poster that shows off Percy holding the sword that bears his father Neptune's symbol, the scepter.
Besides Lerman, other returning stars include Alexandra Daddario, Brandon T. Jackson and Douglas Smith. This time out, the gang of Demigods have to find the Golden Fleece. It is a dangerous journey that takes them, not a surprise given the title of the film, over a sea filled with monsters.