The submarine-based film could almost have its own subgenre of the movie thriller milieu. From Das Boot to U-571 to The Hunt for Red October, there is something about a group of people trapped underwater in a machine built for war that compels around every turn.
The latest to join that esteemed group of movies is Phantom, and Movie Fanatic is proud to present a giveaway that will award one lucky reader a copy of the David Duchovny, Ed Harris and William Fichtner (soon to be seen in the Teenage Mutant Ninja Turtles reboot) starring film on Blu-Ray.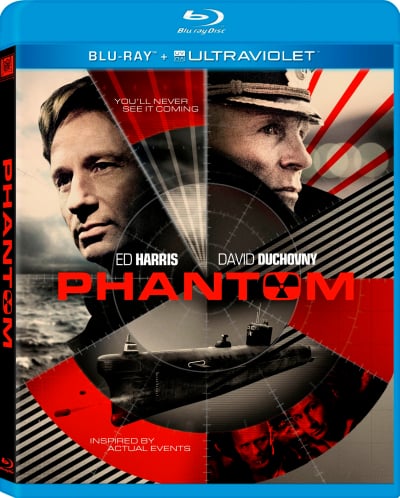 As teased in the Phantom trailer, the story follows what happens when at the most frigid time of the Cold War. a Soviet nuclear sub goes missing in the Pacific. Armed with a nuclear weapon, both the U.S. and U.S.S.R. hold their collective breath wondering where the sub is, and what it hopes to accomplish by going A.W.O.L.
The sub is helmed by a battle-tested captain (Harris) and a KGB agent known for going his own way (Duchovny). The two are waging a cat and mouse game on the submarine that has the world's fate hanging in the balance.
As the U.S. closes in on the sub, time is running out for all those on board to prevent World War III and the sure destruction of the world.
Use the widget below to enter on Facebook or Twitter. There are three unique ways to enter, and by entering all three ways you can increase your chance of winning. A winner will be announced on July 9. Good luck!