As Quartet lands on DVD and Blu-Ray, the film's strongest assets come from behind and in front of the camera. The film follows a group of English classical music stars who now make their home at a classical musician retirement facility and stars Maggie Smith, Tom Courtenay, Billy Connolly and Pauline Collins. But, the star power doesn't stop there. The film marks the directorial debut of Oscar winner Dustin Hoffman.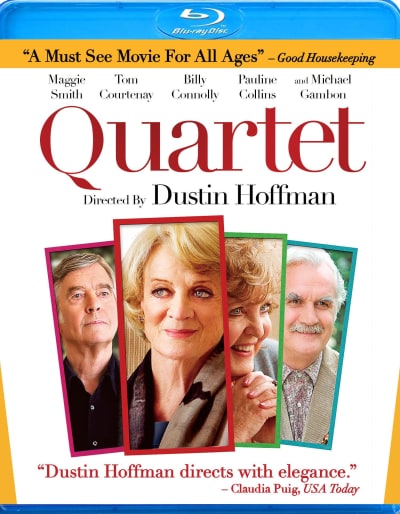 The Quartet trailer shows us Beecham House, a stately manor on the pristine English countryside. And as their annual fundraising gala is approaching, the residents are abuzz about the new arrival. The institution is having financial difficulties and the money raised by the gala concert has never been so needed. So, the timing of the arrival of one of opera's greatest singers (Smith) could not be better.
Hoffman has incredible control over his cast, yet lets the Oscar-winning veterans shine throughout. The film is a comedy, but there is still drama to be found beyond every corner. Two characters have a complicated romantic past, one is slowly losing her mind and another still fancies himself a lothario, to the chagrin of the home's staff. 
The film suffered from being released theatrically in the shadow of the Christopher Walken-starring A Late Quartet and its similarity in subject and title. Yet, as good as that film was, Quartet triumphs in a whole different way.
The bonus features are slim, but what they lack in breadth, they make up for with the fascinating factor and they both involve Hoffman. The Hoffman director's commentary is compelling, especially hearing the thoughts of an established film veteran, but novice film director. And the second of the two bonus features is a series of Dustin Hoffman Behind The Scenes docs that further delve deeper into the helmer's vision for his charming and brilliant story.