The Bling Ring tells the tale you think you know about a group of privileged teens who are so obsessed with celebrities that they broke into several of their houses and stole close to $3 million in merchandise, just to feel closer to them. The "haves" stealing from the "have mores" story is unique and what is so fascinating is that the film comes from filmmaker Sofia Coppola. It could not be more of a perfect fit.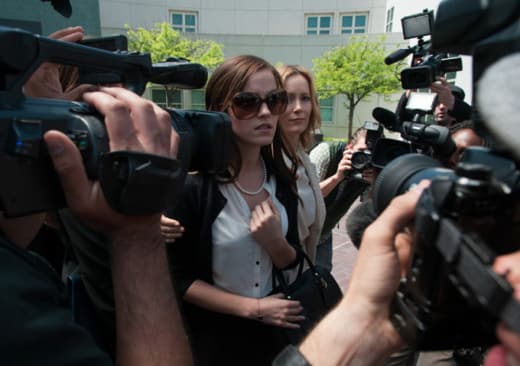 The Bling Ring is Coppola's second "L.A. story" in a row after her stellar work on Somewhere, starring Stephen Dorff. Some may think that the queen of indie cinema would have been a strange choice to helm this true story about teens obsessed with celebrity, but in fact she could not have been a purer choice. She has a knack for making the absurd absolutely real, and the true story of a group of rich teens and their obsession with celebrity that spawns them breaking into their homes fits firmly in her wheelhouse.
Several years ago, a group of teens were labeled The Bling Ring by the L.A. press for their almost $3 million haul of merchandise from the rich and famous including Orlando Bloom, Lindsay Lohan, Rachel Bilson and Paris Hilton. The latter must have a great attitude about the entire affair, as she not only makes a cameo in the film, but Hilton let Coppola shoot in her home… and that only adds to the realism.
As teased in The Bling Ring trailer, this film is truly an ensemble piece. But, there are two standouts that shine above all the others. Emma Watson continues her hot post-Harry Potter streak with a role that could not be more opposite from her own persona. She is not the Bling Ring ring leader, but her attitude and peer pressure-centric methods of getting people to do what she wants is portrayed in a manner that is nothing short of genius.
We were also moved by the film debut of Israel Broussard. In our exclusive The Bling Ring cast interview, Broussard admitted he was "so lucky" to have Coppola cast him. In fact, it is the audience who is the beneficiary of the gift that is this young actor. He effortlessly moves from scene to scene with a nuanced bravado that usually comes from actors with twenty times his experience. In a very real sense, The Bling Ring does not work without the power and presence of Broussard's character and because of his clearly innate acting chops, the film works.
What The Bling Ring does not do as well as it should is firmly establish its characters and at least give us more insight into why they did what they did. Perhaps Coppola was trying to show that her protagonists lacked any kind of depth and that is why they were not worthy of any kind of filling them out beyond the stereotypical "rich kids" that we've seen in movies before.
In fact, there is a line late in the film after our main characters are arrested where one appears to care less about being arrested and is more interested in whether Lindsay Lohan knows her name because she broke into her house. If someone possesses that level of kiddie pool shallowness, perhaps filling out the character(s) in The Bling Ring would have done a disservice to the real people who comprised the Bling Ring.
What is also so compelling about The Bling Ring is how the story may be only years old, it could easily have seemed dated. But, for better or worse, our collective obsession with celebrity has only gotten fiercer with time. So it appears that Coppola may have, in fact, crafted a film that is surprisingly timeless.