The Heat Exclusive: Spoken Reasons Goes Beyond YouTube Stardom
by Joel D Amos at . Updated at . Comments
Spoken Reasons has a special moment in the movie The Heat, starring Sandra Bullock and Melissa McCarthy. The two agents of the law are trying to get answers out of his Boston drug dealer character, so what do they do? Why, they hang Spoken Reasons off of a fire escape, four stories in the air.
"All the blood rushed to my head," he said and laughed. "It felt real. I don't like heights…. being upside down from a balcony -- that's not something that you want in life. It was cool -- I've never done that before."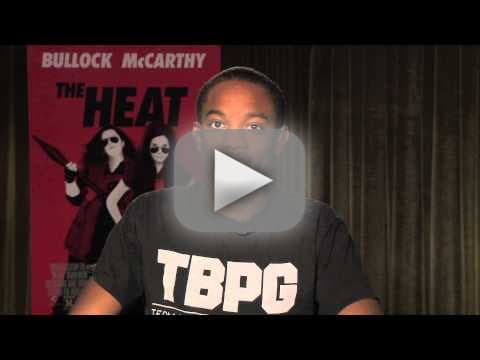 The man who has made a name for himself with millions of views on his YouTube channel that features his unique stand-up comedy, music and overall showbiz panache, clearly cherished the time with two film stars at the top of their game.
"Working with those two, they're different. When I was working with Sandra, there were times when she would pull me to the side and she would give me hints and tools. And told me it was a secret! I've never had an acting coach, so getting advice from her was something that I can always remember for the rest of my life," Spoken Reasons said.
And when it came to time with McCarthy on The Heat set, as a fellow comedian, his time with her was priceless. "Around Melissa, one thing about her [is] she taught me I can take whatever I'm doing on the screen and it sharpens up my standup skills. She's so quick on her feet and I feel I can now do that too," he admitted.
The Heat trailer may tease that this is the McCarthy and Bullock show, but Spoken Reasons gets his share of laughs and shows that when it comes to stardom, this young star is only getting started. Where he hopes to go from here... the sky is the limit. He wouldn't mind a career like his idols.
"I'm inspired by Chris Rock and Dave Chappelle's writing abilities. And I'm inspired by Will Smith."