The Hobbit Desolation of Smaug Trailer: Where Does Your Journey End?
by Joel D Amos at . Updated at . Comments
The dragon Smaug makes his debut in the first trailer for The Hobbit: The Desolation of Smaug. Of course, you have to wait until the final moments. But, we promise you… it is jaw-dropping.
Fans of the Peter Jackson world have to wait six months, almost to the day, for the film to arrive. December 13 is a long time for such anticipation, but that is how Jackson has teased his audience since he first released the initial trailer for The Lord of the Rings: Fellowship of the Ring.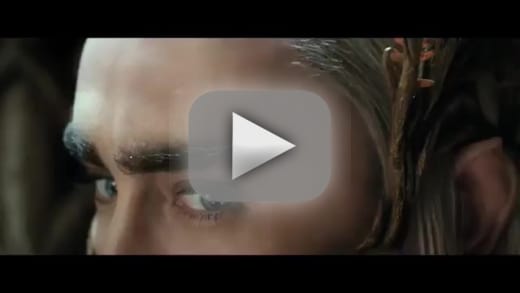 The trailer features the return of Legolas (Orlando Bloom) and after teasing us with this Evangeline Lilly still, we get the first words from her character, Tauriel. It appears the two elves clash over whether they should be involved. "It is not our fight," Legolas says. To which, Tauriel answers, "It is our fight."
In The Hobbit: The Desolation of Smaug, the action picks up almost immediately after The Hobbit: An Unexpectd Journey. And what else stands out from this trailer is the score. It is as riveting as the J.R.R. Tolkien story warrants, ever building until the two-minute teaser climaxes. In a word… brilliant.