The Incredible Burt Wonderstone DVD Review: Home Hocus Pocus!
by Joel D Amos at . Updated at . Comments
The Incredible Burt Wonderstone has arrived on DVD, Blu-Ray and digital download and faster than you can say Abracadabra, the Steve Carell and Jim Carrey magic show will have you laughing. As we stated in our theatrical The Incredible Burt Wonderstone review, the humor may not be for everyone, but if you are fans of both comic actors, buckle your seatbelts for a magical and hysterical ride.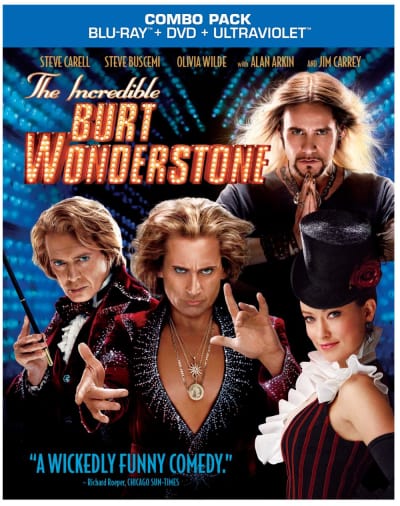 Burt Wonderstone (Steve Carell) grew up with his BFF Anton Marvelton (Steve Buscemi) and all they wanted to do was perform magic for legions of fans. The film begins as we meet them as children and the seeds of their success can be seen at that early age. The story fast forwards to their adulthood where Wonderstone and Marvelton are not only some of Sin City's most in-demand magicians, but they are also one of Las Vegas' top acts… period.
The Incredible Burt Wonderstone trailer shows that time starts to not be so kind to our duo. Their act is beginning to get stale and where once sat sold out crowds, now finds a handful of tourists hoping to catch a glimpse of the glory that once was.
Things are made worse by the fact that an upstart Criss Angel-type magician (Carrey) named Steve Gray is beginning to draw crowds to his street shows and has caught the eye of casino mogul Doub Munny (James Gandolfini in one of his last roles). Munny signs Wonderstone and Marvelton's paychecks and puts them on notice to improve their act… or Gray is his next in residence magician.
The film falls for a few of the stereotypical traps that movies often prescribe: The man on top that falls to deep lows, only to rediscover his passion that made him successful in the first place. Although it is a tired formula, with Carrey and Carell, plus Buscemi at his most hilarious, it works.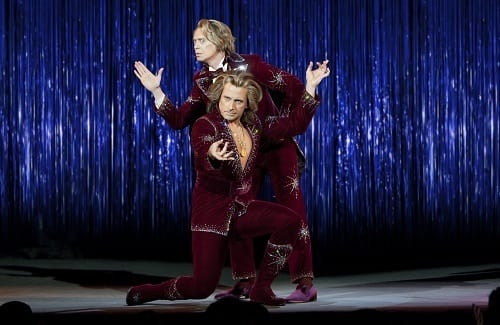 The Incredible Burt Wonderstone supporting cast is top notch, especially Olivia Wilde as Wonderstone and Marvelton's long-suffering assistant with dreams of magic success all her own. We adore Wilde and how she brings a tad of reality to her portrayal… magic is -- even to this day -- a man's world with a glass ceiling for women that has almost no cracks. Also shining in a supporting role is Alan Arkin, who plays Rance Holloway… the man who inspired Burt and Anton to become magicians in the first place.
The DVD and Blu-Ray contains over 45 minutes of additional footage. The highlight has to be Making Movie Magic with David Copperfield. The icon who Oprah Winfrey labeled as "the best magician of our time" takes home video viewers on a journey of movie magic. As someone who got a personal tour of the magician's facility in Las Vegas, I can attest that there are few magicians out there who also share an equal passion for film, and it shows on the DVD and Blu-Ray featurette.
As Carell and Carrey are such strong comedic performers, another highlight is the gag reel, which is anything but ordinary. Some comedies mail it in when it comes to the bonus feature gag reel, but with The Incredible Burt Wonderstone, it may even be funnier than some of the film's most hysterical scenes.