From the first moments we saw the Upside Down trailer, we knew this was not your average romantic flick. In fact, to call it a romance is too simple a description. Upside Down is a science fiction movie meets interstellar romantic adventure with two attractive leads and an even more compelling plot.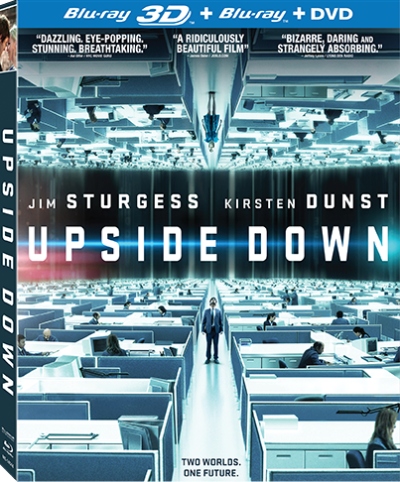 Jim Sturgess and Kirsten Dunst star as literal star-crossed lovers, who live on two planets that share an atmosphere, yet have polar opposite gravitational pulls. It is established early in the film how these two worlds came to be and how they are also worlds of haves and have-nots.
Dunst and Sturgess met as kids at the top of each of their world's highest peaks and it begins a friendship that flourishes into a romance as they grow older. When the authorities are made aware of this situation, they promptly put a violent stop to it. Yet, Sturgess cannot forget her, even if Dunst's character has amnesia caused by a bump on the head during the government's intervention at their meeting spot.
The crux of the Upside Down plot follows Sturgess as he devises a way to manage the gravitational differences between their worlds and venture up to Dunst's world to try to show her they are meant to be together, despite all that is piled high against them.
Our theatrical Upside Down review found the film visually stunning with performances that were worthy of such a high concept and original idea. The film runs out of gas and starts to break its own rules late in the third act. But, for romance, sci-fi and even thriller fans, Upside Down has it all. It is the rare movie that fans of such divergent genres can all agree upon!
Movie Fanatic received the Blu-Ray 3D, Blu-Ray/DVD combo pack for review and it is an interesting offer as the film did not land in theaters in three dimensions. If audiences flock to the 3D Blu-Ray, then how we see movies at home could change going forward. Although, since ownership of 3D televisions is not quite there yet… we may be years from that happening.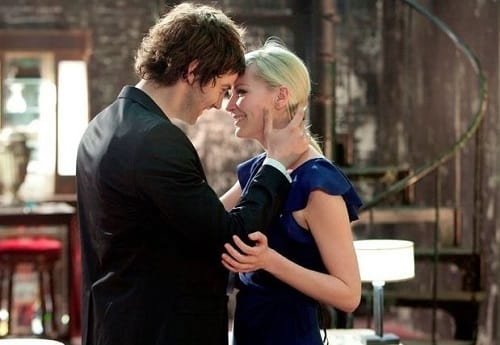 As for the bonus features on the Upside Down home video, they come in at about 70 minutes of behind-the-scenes materials. The best of the lot is the 29-minute Making of Upside Down feature which takes viewers inside the special effects wizardry that was required to create these two worlds with vastly different rules of gravity. Director Juan Solanas narrates a featurette called History of the World that explores the opening sequence of the film that introduces our two worlds.
Since a film like this had to be story-boarded to the extreme to capture the full visual majesty potential, Solanas' taking viewers through the storyboard process of several important locales is brilliant -- the Office, Sage Mountain and the Final Shot -- and it all adds loads to the viewing experience.