Bryan Singer is at it again, tweeting another set photo from X-Men: Days of Future Past. This one shows a scene taking place in the Oval Office, with Richard Nixon behind the desk.
Little did we all know that Nixon had secret mutant powers!!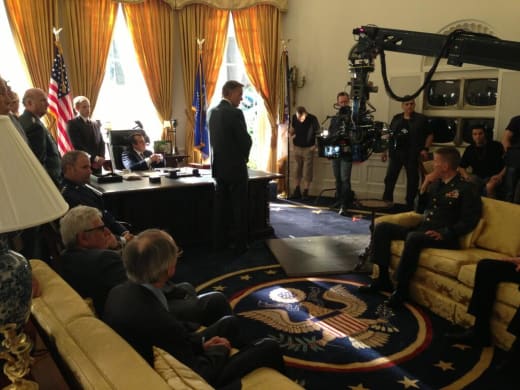 Singer has said in the past that Nixon will appear in the film, during the 1970s parts, though there is no word on who the actor portraying him is.
Jennifer Lawrence (Catching Fire), ​James McAvoy, Patrick Stewart, Michael Fassbender, Ian McKellen, Hugh Jackman (The Wolverine), Halle Berry, Nicholas Hoult, Anna Paquin, Ellen Page, Omar Sy, and Peter Dinklage star in the film, which combines the two continuities from the past installments of the franchise.
X-Men: Days of Future Past premieres July 18, 2014.