As we stated in our theatrical 42 review, it is frankly surprising that it took so long to have a biopic arrive chronicling the life of one of the more inspiring souls of recent memory. The story of Jackie Robinson is custom made for the lights of Hollywood in how he rose above discrimination to not only change the game of baseball, but also to elevate it in terms of its quality, message and athleticism while changing the world.
42 lands on DVD and Blu-Ray -- set to inspire a whole new generation.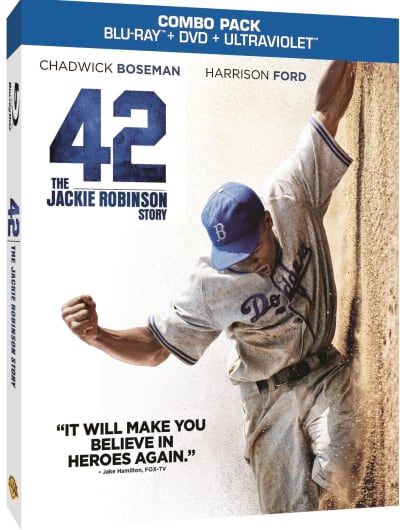 It was 1946 and there was not one single African American in Major League Baseball. There was the Negro Leagues, but Brooklyn Dodgers' Branch Rickey (Harrison Ford) thought that was a crime, not only against society, but against the greatest game on Earth. He was determined to change that and as shown in the 42 trailer, he not only sought to find the perfect ballplayer to play for his team, but he also needed one who would be headstrong enough to withstand the tsunami of hate that would be thrown his way.
That man was Robinson, who had been an athletic superstar since his high school days in Pasadena, California. See, the key to a powerful biopic is having the right actor or actress play the part that will (hopefully) live on forever on celluloid. Although the story has been out there, literally since Robinson first put on that Dodger uniform, it took decades to find the right actor and he arrived in the form of Chadwick Boseman. His performance is as tenacious as Robinson was a player and agent for societal change.
This film is a must-see for all, but especially for the young. We didn't always have a society that would elect an African American president, and movies like 42 are too important to merely just be another film that has arrived on home video. The arrival of 42 on DVD and Blu-Ray is a chance to educate, entertain and yes… uplift and inspire.
The extras in the 42 Blu-Ray/DVD combo pack we received are only three, but each is more powerful than the previous. Stepping into History showcases how the film managed to capture a moment in time that was incredibly important that filmmakers get it right. Full-Contact Baseball shows what Robinson went through on the field, and it was far from pleasant… that is until he started impressing people with his prowess.
Then, the creme de la creme of DVD extras arrives in The Legacy of Number 42. Did you know that the number "42" is the only jersey number in professional baseball that is retired across the entire sport? This bonus feature explores that fact and so much more as to the importance of the man who wore that number on his back and how his legacy transcends sport and culture.