The eagerly anticipated biopic on rock legend Jimi Hendrix, All Is By My Side, will have its premiere at the Toronto Film Festival. Star Andre 3000 is uncanny in the first official picture from the film as the late guitarist.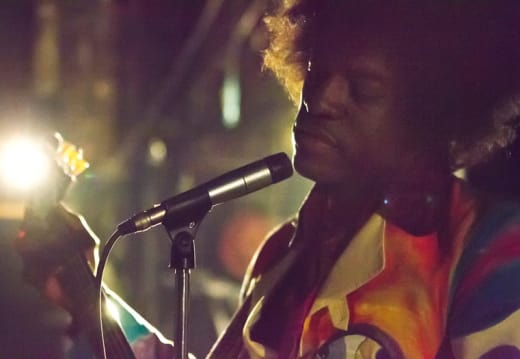 When audiences finally get to witness All Is By My Side in Toronto at the fest, they will not necessarily see an entire life story of Hendrix. The film focuses on the Seattle native's years in London in the weeks leading up to the Are You Experienced release -- an album that would make him an icon.
Unlike a film like Walk the Line, due to a legal fight with Hendrix's family estate, no music from his catalog will be in the film… which clearly is a challenge. How do you tell a man's story when his music is what made him? That seems to be an element that is missing from the get go of this film and may sound like a hard place to start. Yet, with the music removed, All Is By My Side is free to be the biography of the man… not necessarily his music. And that may prove brilliant.