All You Need Is Kill Still: Tom Cruise Shows His Metal
by Joel D Amos at . Updated at . Comments
Perhaps lost in the awesomeness that was the Entertainment Weekly Comic-Con photo of Spider-Man and Electro was this little gem: Tom Cruise in All You Need Is Kill. He stars, opposite Emily Blunt (who is also in the photo below), as a soldier who is killed within minutes of being deployed in a combat mission that goes to hell quite quickly. In a page from Groundhog Day, he has to live the day over and over… until he gets it right.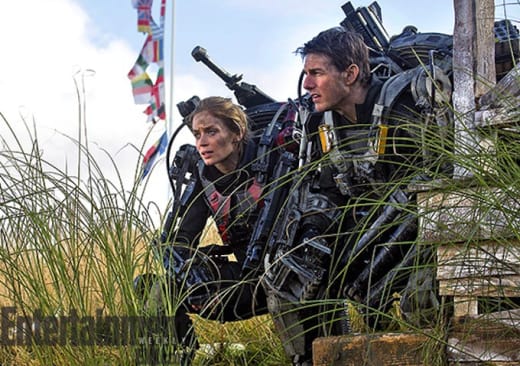 See, Cruise's character, and Blunt's, are on a mission to destroy an alien race who lives in hives that are threatening our way of life. Is it us, or do Cruise and Blunt's mechanical suits look a bit like the Matt Damon Elysium exoskeleton suit?
All You Need Is Kill is set to open June 6, 2014 and also stars Bill Paxton and Marianne Jean-Baptiste in the latest film from director Doug Limon (The Bourne Identity) and we'll bring you more on this interesting idea from Comic-Con!