Christian Bale Stresses Done with Batman, Not in Justice League Movie
by Joel D Amos at . Updated at . Comments
In the category of "how many times do I have to say this," news arises from Christian Bale that he will undeniably not be in the Justice League movie. As the success of Man of Steel continues to steamroll, the rumors that a Justice League movie will come have heated up. But, what that has done has created a vacuum for a need to answer the question: Who will be Batman?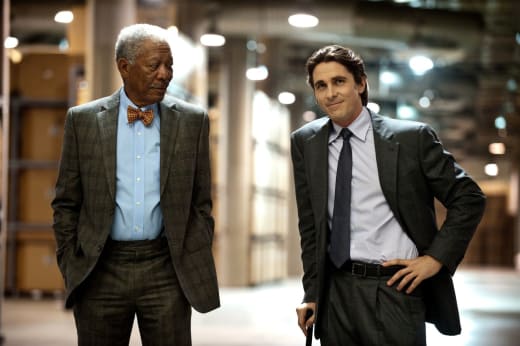 "I have no information, no knowledge about anything. I've literally not had a conversation with a living soul. I understand that they may be making a Justice League movie, that's it," Bale told Entertainment Weekly while speaking about his latest film, Out of the Furnace.
"It's a torch that should be handed from one actor to another. So I enjoy looking forward to what somebody else will come up with."
Now that the Dark Knight trilogy has concluded successfully with (SPOILER) Bruce Wayne off in France, Bale believes (as does director Christopher Nolan) that their take on the Dark Knight world is over and should never be revisited.
"We were incredibly fortunate to get to make three (Batman films). That's enough. Let's not get greedy. Chris (Nolan) always said he wanted to make it one film at a time," Bale said.
"And we ended up sitting there looking at each other, saying 'We're about to make the third.' We never really knew if we were going to get to be there, but if that was how it was going to be, this was where it should end as well."
Well, guess that's that. Except… we want to know who you think should wear the batsuit. Take our poll and let us know… Who should play Batman in the Justice League movie?