Despicable Me 2 Wins Again: Weekend Box Office Report
by Joel D Amos at . Updated at . Comments
Despite the challenge of two enormous contenders, Pacific Rim and Grown Ups 2, Gru and his Minions did it again. Despicable Me 2 made it two-for-two, winning the weekend box office by adding another $44.8 million to its already explosive box office numbers. Globally, the Despicable Me sequel has made an astounding $472.4 million thus far.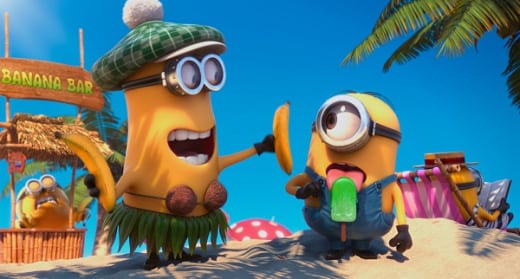 The Adam Sandler comedy Grown Ups 2 inched out a victory over the other big movie to open this weekend, the Guillermo del Toro passion project Pacific Rim. Where Sony had to be thrilled with the performance of its latest Sandler film, Warner Bros. has to be slightly disappointed with what was considered one of the most anticipated movies of the summer debuting in third place.
And The Heat continued its strong run, coming in fourth with a $14 million take.
Closing out the top five is Disney's The Lone Ranger, starring Johnny Depp. It's $11.1 million in ticket sales continues its disappointing run… another highly anticipated summer movie that has come up short. Internationally, The Lone Ranger's total is sitting at just over $119 million, almost exactly half what it cost to make.
And one more thing: Despicable Me 2's victory now makes it a full month where an animated movie has ruled at the multiplexes…
Box office top 10:
1. Despicable Me 2, $44.8 million
2. Grown Ups 2, $42.5 million
3. Pacific Rim, $38.3 million
4. The Heat, $14 million
5. The Lone Ranger, $11.1 million
6. Monsters University, $10.6 million
7. World War Z, $9.4 million
8. White House Down, $6.2 million
9. Kevin Hart: Let Me Explain, $5 million
10. Man of Steel, $4.8 million