Summit Entertainment has announced that fans will finally get their first footage from the highly anticipated page-to-screen effort Divergent at Comic-Con. The New York Times bestseller by Veronica Roth will have a wide-ranging presence at the annual pop culture convention and Movie Fanatic will be there to bring it to you as it happens. The release of the Divergent faction symbols recently will be pale compared to what we will emerge from San Diego with!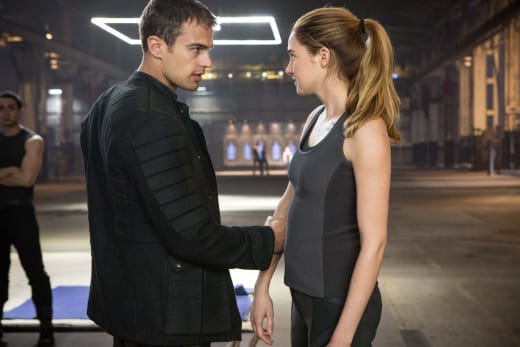 The famous Comic-Con Hall H will host a question and answer session July 18 with filmmakers and cast, including Roth, as well as director Neil Burger and stars Shailene Woodley (will she discuss getting cut from The Amazing Spider-Man 2? Probably not!), Theo James, Miles Teller, Mekhi Phifer and Maggie Q.
Although we've seen a slew of photos from the film, including this electric Shailene Woodley Divergent still, the Hall H presentation will be the first to feature video. Whether it will be a trailer or clips… time will tell.
The convention floor of the San Diego Convention Center will also find a booth dedicated to Divergent featuring exclusive promotional loot, free for those walking the halls of the annual pop culture cavalcade. Also present… cast members will sign autographs!