Dumb and Dumber Sequel: Jeff Daniels Says "It's Hysterical"
by Joel D Amos at . Updated at . Comments
Although it's not much to go on, given the interest fans have in a Dumb and Dumber sequel, what Jeff Daniels said on Jimmy Fallon last night should bring a smile to millions. "I've seen the script. It's hysterical," Daniels said.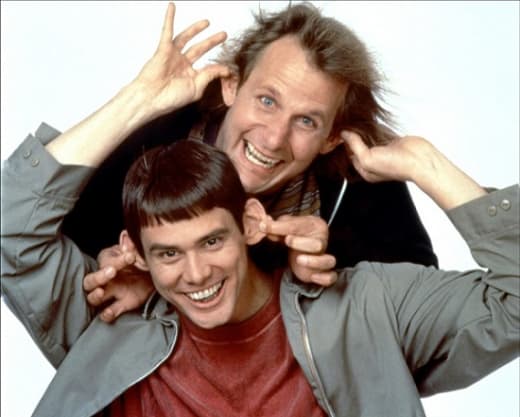 Warner Bros. had had the film in development for what seemed like forever, and eventually passed on the Farrelly brothers and their ideas for continuing the madcap adventures of Lloyd and Harry.
Universal Pictures has picked up the option, and it looks like -- according to Daniels, who plays Harry -- they will start shooting in September.
Jim Carrey has said that he too will be back, as Lloyd, and as Daniels said on the Jimmy Fallon Show… they will not shy away from the reality of the passage of time. "We're middle-aged. We're not pretending we aren't," Daniels said. "We're middle-aged and we're still that stupid."
Universal Pictures picked up Dumb and Dumber To (as we understand it will be called) in June after Warner Bros. had passed on the sequel and it sounds like things are moving right along.
Look for the film to arrive sometime in 2014, the 20th anniversary of when the first Dumb and Dumber rotted our brains to our complete and utter delight.