Ender's Game: Harrison Ford Talks Returning to Sci-Fi
by Joel D Amos at . Updated at . Comments
Sure, it may seem that Harrison Ford is playing a character in Ender's Game that could double for a mature version of Han Solo. But, when we caught up with the cinematic legend at Comic-Con to talk about his first foray into sci-fi in decades, he says that Han Solo from Star Wars and Colonel Hyrum Graff in Ender's Game could not be more different.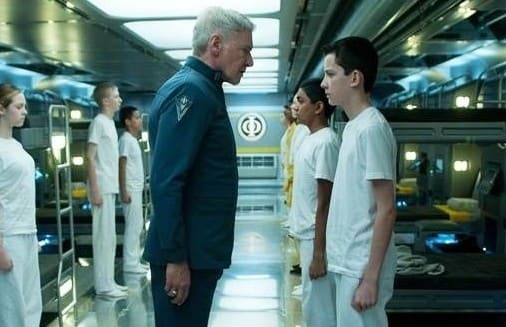 "Han and Colonel Graff are nothing alike. Graff is a very complex character. He has an awesome responsibility and recruits and trains young people in this structure of the story," Ford said.
"He faces a lot of moral issues that are involved with young people in warfare. The complex moral issues are part of Graff's story. Ender (Asa Butterfield) faces issues of morality at the end of the film where Graff is aware of his moral issues throughout the entire movie and that is part of the story."
What compelled Ford to return to outer space was the source material, written by Orson Scott Card, and Ford addresses Card's anti-gay marriage stance within moments. "The book deals with a lot of complex issues of social responsibilities and the moral issues that one faces in the military establishment. I was just delighted to be involved in a film that deals with such moral issues made by such talented people. I think Graff is a much more complex character than Han Solo," Ford said and smiled.
"That doesn't mean that I regret Han Solo."
Since he stressed the moral springboard that Ender's Game presents is what compelled, we wondered what of those paradoxes he most identified with.
"This movie is very pressing and the novel was very pressing in recognizing something that we now have to deal with in our lives, which is the business of war. We are somewhat disconnected from that. So the morality of a military commander and a military command structure was exciting to explore as well as the reasons why we wage war. There are moral concerns with this film and they are something we deal with daily in our lives. The issue of inter-planetary warfare is science fiction but has a realistic tone that reflects concerns of our everyday lives like drone warfare and the capacity that we have technologically to kill," Ford said.
"The other is the use of young people to wage war, which is always a concern when we use the youngest and the fittest of our culture in warfare. There is a question in the film of using younger people for warfare. In the book Ender starts out at eight years old and we changed it to 13, which I think was a smart choice. But the character that I play is responsible for manipulating young people in the service of some perceived need for humanity as a whole. No matter how you wrestle with the questions of warfare, the more you create a complex question and I think it is important for us to visit these questions not only in the daily news but also in our civic lives."
One of the greatest joys for the movie legend was the opportunity to work with another screen legend that, surprisingly, he has never performed alongside, Sir Ben Kingsley.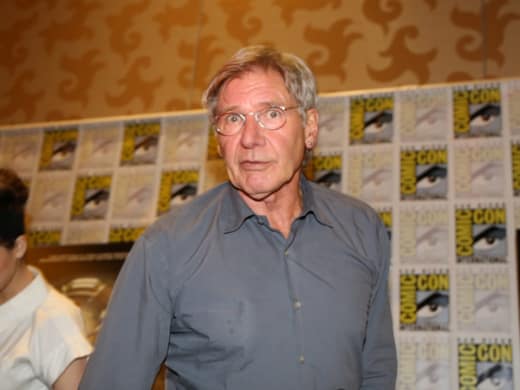 "It was great. Besides his moniker (Sir) he is a great actor and a warm kind of guy [laughs]. I vastly enjoyed working with him and I had never met him before! The pleasure of working with him as an actor was a real treat. I also had the pleasure of working with these young people who are enormously talented and dedicated to telling the story of this film," Ford said.
"They were also surprisingly dedicated to the craft of acting. It was surprising to me for their ages. They are tremendously talented young people. I give credit to them and I give credit to Gavin (Hood) because casting is so important in these things and I was delighted to be involved."
Finally, the elephant in the room is addressed given author Card's opinions on gay marriage.
"I think none of Mr. Card's concerns regarding the issues of gay marriage are part of the thematics of this film. He has written something that I think is of value to us all concerning moral responsibility. I think his views outside of those that we deal with in this film are not an issue for me to deal with and something I have really no opinion on," Ford admitted.
"I am aware of his statements admitting that the question of gay marriage is a battle that he lost and he admits that he lost it. I think we all know that we've all won. That humanity has won. And I think that's the end of the story."