Escape Plan Screening at Comic-Con: Arnold Schwarzenegger & Sylvester Stallone to Host
by Joel D Amos at . Updated at . Comments
We've seen the Escape Plan trailer starring Arnold Schwarzenegger and Sylvester Stallone in their first non-The Expendables movies pairing. Now, fans of the duo will get a chance to get up close and personal with the two icons of Hollywood as Summit Entertainment has announced that the dynamic duo will present a screening of Escape Plan to audiences at Comic-Con on Thursday, July 18.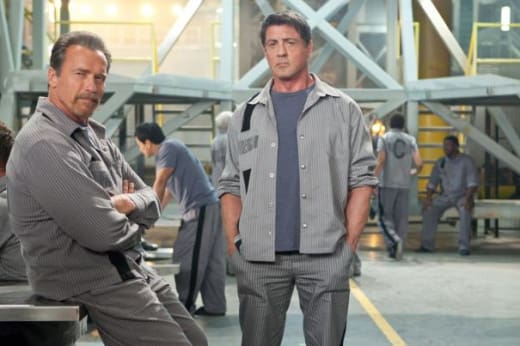 The special fan screening of Escape Plan, formerly titled The Tomb, will be hosted by Schwarzenegger and Stallone at the Reading Cinemas Gaslamp 15. If you're in San Diego for the annual pop culture convention, we're sure at this point you're asking, "How do I get tickets?"
Passes for the screening will be made available through online giveaways sponsored by Summit, as well as at the Summit booth on the convention floor. And also, the evening of the screening itself, a small handful of tickets will also be raffled off.
Simply get in line outside the theater at 5 p.m. and wait for your chance to win, and at the least, you'll get a glimpse of Stallone and Schwarzenegger as they waltz down the red carpet. Well, maybe not waltz.
Escape Plan follows Stallone as he teams with Schwarzenegger to try to break out of the most high-tech security facility (i.e. prison!) known to man. The films hits theaters for the rest of us on October 18.