The Evil Dead remake arrived in theaters and captivated audiences and critics alike. The movie that in our theatrical Evil Dead review we called, "The scariest movie of the year," is coming home on DVD and Blu-Ray. Now is your chance to have an utterly terrifying experience at home!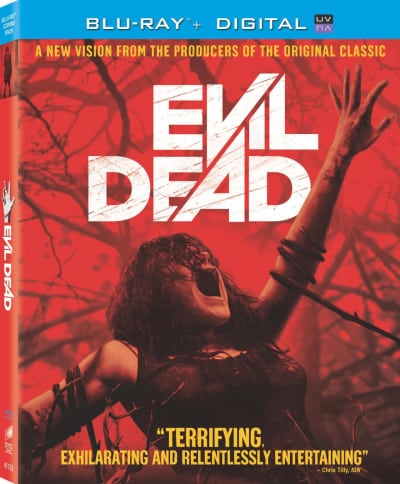 Evil Dead, circa 2013, is produced by the first film's director Sam Raimi (Oz: The Great and Powerful) as well as the man who starred in the original (Bruce Campbell). As such, the new film has a reverence for the classic original, while still pushing the envelope to the furthest reaches of fear.
In the film, a group of five friends heads to a remote cabin to help one of their own get off some serious drugs. At first when she has visions, they just discount it as one of the awful symptoms of withdrawal. But, as they begin seeing these horrors on their own… it is too late.
Jane Levy impresses as the main character, and she is surrounded by a cast that is up for raising their game. That's a very good thing, since the original film is so beloved. Director Fede Alvarez is a huge fan of the first film, and it shows on every frame. Simply watch the Evil Dead trailer and it is easy to see this is simultaneously a love letter to the Raimi film, and also one that seeks to step out on its own.
The Blu-Ray and DVD bonus materials astound. Simply watching it, you will marvel at what the cast had to go through to get physically and mentally ready for the picture. That is explored on Making Life Difficult and witnessing the cast and crew and everything they went through to get the movie made.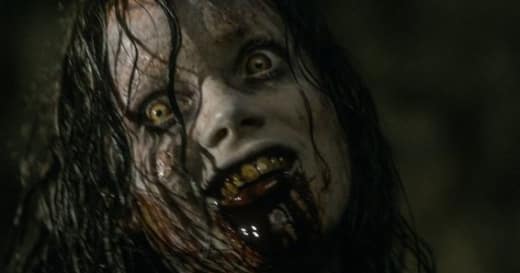 Being Mia is also a fascinating look at how they took Levy and turned her into what is essentially a walking horror show, and what better way to cap off this adoration for all things Evil Dead, than with the Directing the Dead featurette? Here, director Alvarez takes audiences behind the scenes to show how he re-imagined a classic. It is a fascinating look at the making of a movie where the subject of the documentary has an affinity for it like no other.
The Blu-Ray features a few extra bonus features including Unleashing The Evil Force -- which explores the origins and design of the new Book of the Dead (seen in the first movie). Also, Evil Dead the Reboot takes viewers inside rehearsals with the cast and Campbell providing his infinite wisdom.