The idea sounds fascinating for
Gravity
, Alfonso Cuaron's latest film.
The Children of Men
(and our favorite Harry Potter movie,
Harry Potter and the Prisoner of Azkaban
) director heads into space and brings along Sandra Bullock and George Clooney… as we see in a new still from the film that lands at
Comic-Con Saturday
and in theaters October 4. We've seen
Sandra Bullock in Gravity
already, but this is our first gaze at Mr. Clooney doing his thing with his co-star.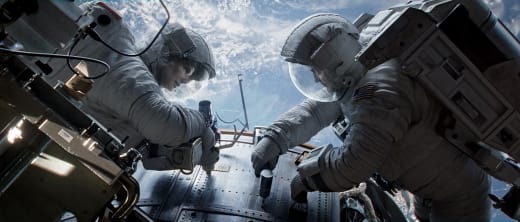 The film will be in 3D and IMAX 3D and promises to be like nothing we've seen. It features Clooney and Bullock as astronauts who go on a spacewalk, only to see their ship destroyed while they're out. Having only so much oxygen… what do they do?