Gravity is coming to Comic-Con on Saturday, and for a high brow sci-fi movie, that is a great addition to the pop culture cavalcade that invades San Diego each summer. The Alfonso Cuaron (Harry Potter and the Prisoner of Azkaban) directed flick, starring Sandra Bullock and George Clooney, is perfect for Comic-Con, but it also honestly raises the bar as well.
Cuaron must be pretty excited as well as he released a new still of Bullock from his highly anticipated film showing that she is experiencing the zero version of the title, while working in space.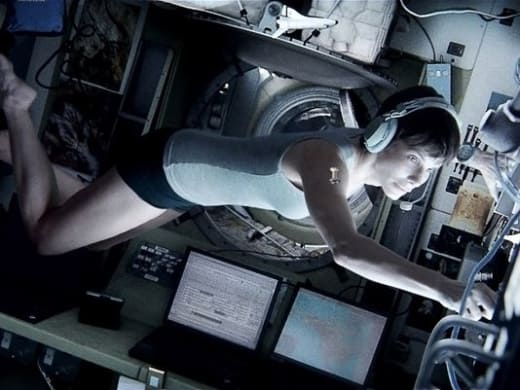 Of course, at some point after this photo in the movie, all hell breaks loose. Clooney and Bullock are astronauts who are on a spacewalk when their space capsule is destroyed and they are stuck in space. It's a race against time film where the enemy here is, well…a lack of Gravity.
As seen in the Gravity trailer, Cuaron has crafted a terse thriller where the power of his stars is the selling point. Can you imagine two hours in the dark watching Clooney and Bullock struggle for survival… in space!
Gravity opens in 3D on October 4.