Fresh off that hot shot of Aaron Eckhart in I, Frankenstein, Lionsgate has released a trio of character posters in honor of this week's Comic-Con. The three Comic-Con posters reveal Eckhart as Adam, the film's personification of "evil" and "good." Both look pretty bad if you ask us. First up… it's Eckhart!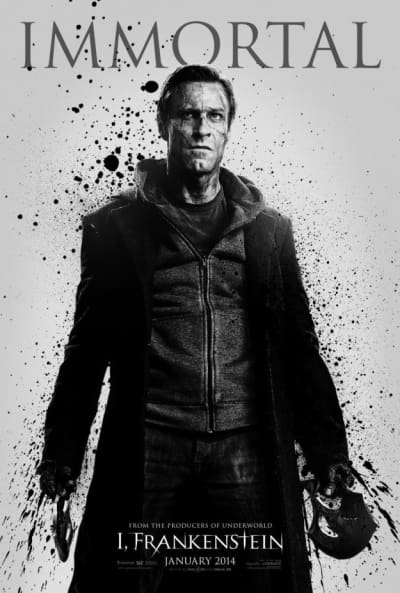 The battle for the control of Earth lies in the victor of a war between gargoyles (who are good, we guess?) and demons (definitely evil) and a man who may hold the key to the entire war: Eckhart's characterization of a creation of Victor Frankenstein.
I, Frankenstein is based on a graphic novel by Kevin Grievous and will likely be one of the more buzzed about movies to come out of this year's popular culture fest in San Diego. The cast includes Bill Nighy, Yvonne Strahovski and Jai Courtney and debuts in theaters nationwide January 24, 2014.
Up until now, we just have the I, Frankenstein motion poster. We're betting we won't leave Comic-Con without a first trailer! Stay tuned...