I, Frankenstein First Still: Aaron Eckhart Scares Yvonne Strahovski
by Joel D Amos at . Updated at . Comments
The Aaron Eckhart I, Frankenstein set photo set the internet afire. After the Comic-Con I, Frankenstein character posters were released, we finally have our hands on a first official still from the movie that re-imagines the Mary Shelley classic.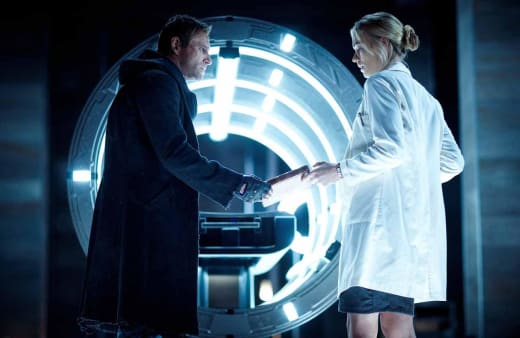 Lionsgate has unleashed its initial still for what is sure to be many for the film landing January 24, 2014.
Eckhart portrays a very different version of Frankenstein than audiences have ever seen and the photo above finds him with Yvonne Strahovski. And the story is wildly original as well as it follows a war between gargoyles and demons. How Frankenstein fits into all of this is a mystery, but we are intrigued.