Kevin Hart Let Me Explain Exclusive: Favorite Stand-Up Comedy Movie!
by Joel D Amos at . Updated at . Comments
Kevin Hart tells us in our exclusive video interview that the key to a good stand-up movie, in his world, is to show personal improvement. "It was showing growth as an artist and as a comedian," Hart said. "From Seriously Funny to Laugh at My Pain to Let Me Explain, I think I have grown. I think you see how I've matured and how my life has changed. That's the pressure I put on myself."
Hart has quickly become one of Hollywood's go-to funny guys, with his recent turn in Think Like a Man to the recently released Ride Along trailer with Ice Cube, the actor has shown depth, development and above all else… he is funny as hell.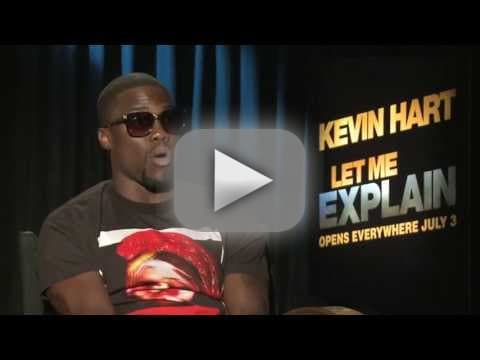 As teased in the Kevin Hart: Let Me Explain trailer, the funnyman chronicled his world tour that culminated in the Holy Grail for comedians, selling out two nights at the famed Madison Square Garden. Hart admitted that the key to success for a stand-up comic is "making those rooms intimate. When you can make a room of 30,000 intimate, when you're talking… it's quiet. That's a different ballpark of wow."
We also asked him what his favorite stand-up comedian movie is… and his answer may surprise.