A new poster has been released for Machete Kills, and in honor of the upcoming Fourth of July -- it is of Charlie Sheen, who portrays the fictional President Rathcock. In the one-sheet, he is sporting quite a weapon with the presidential seal glowing behind him.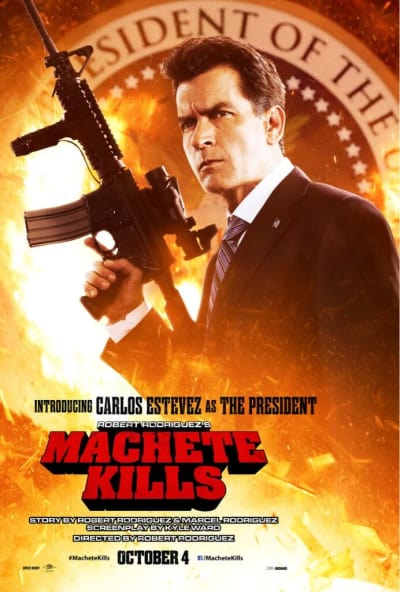 What's fascinating about Sheen in this movie, is he is actually going by his birth name: Carlos Estevez. You may wonder why a movie poster with Sheen's face has the word "introducing" before his name. That's because this is the first time that Sheen has gone by Estevez. He and his father Martin Sheen changed their last name, and only Emilio made it famous by using his given name.
The Machete Kills trailer for the film that lands September 13 paints quite a picture as our favorite madman is back. And I mean, what is not to like about Danny Trejo? The cast has greatly expanded from the first Machete, with character posters already having been released for Sofia Vergara, Michelle Rodriguez and Lady Gaga.