Pacific Rim Exclusive: Heather Doerksen Takes Us Inside a Jaeger
by Joel D Amos at . Updated at . Comments
Heather Doerksen had a front row seat to the magic that is Guillermo del Toro while he was making his Pacific Rim. As teased in the Pacific Rim trailer, the movie is about as huge as one can get and it is perfect for summer (our review is coming tomorrow). Doerksen portrayed the Russian Jaeger pilot, who alongside star Charlie Hunnam, was charged with saving the world from the alien monsters – known as Kaiju.
Doerksen called Movie Fanatic for an exclusive chat about how her expectations for what we see on screen compared to what she experienced while filming on a green screen and on a sound stage and of course, we ask about what it is that makes del Toro such a magical filmmaker.
Movie Fanatic: I saw the film last night and the only thing I could say walking out was, "Holy cow." What was your reaction the first time you saw it?
Heather Doerksen: I saw it last night too and holy cow is about how I would describe it too. Once I caught my breath, I realized that it grabbed you from the beginning and doesn't let you go until the very end. It shattered my expectations. And you know what? It also had a great sense of humor.
Movie Fanatic: Now, I know you filmed it with green screen and had to fill in so many blanks with your imagination. How did what you see compare to what you imagined?
Heather Doerksen: At first we only had photos and images of the Jaeger and Kaiju. So, we had an idea of what we were working with beyond the green screen. But, to see it come to life in the theater -- I gasped. It was so much bigger than I could have imagined and the visual, and sound effects truly blew me away. I couldn't even imagine that big [laughs]. I have a pretty big imagination, and this was even bigger than that.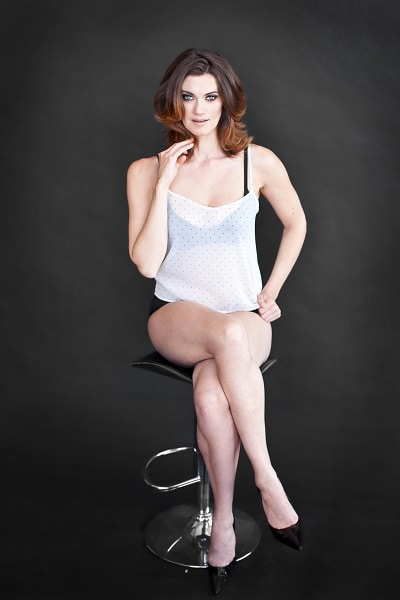 Movie Fanatic: Those suits you have to wear to "pilot" the Jaeger. I know you do all this backstory to find the center of your character. But, what was it like when you put on those massive suits?
Heather Doerksen: That's another thing I love about working in acting is every single person working on the set can bring something to your character -- it is a team effort. When I show up on set, I have her internally. But, when I get there, especially for Guillermo's film, there is so much that is added to your character externally. All those people really help me realize the character and that incredible armor… that did it for me.
Movie Fanatic: Guillermo del Toro is such a visionary. What was the experience like working with him?
Heather Doerksen: The experience of working with Guillermo, I can't put my finger on what it is he has that makes him so special. There is just so much. On the set, it is the furthest thing from a dictatorship. It was more like a family. There were constantly people laughing and joking. He is able to get the most out of everybody so that we are all giving as much as we possibly can to this project. This was six months of our lives. At the end of the shoot, everyone was extremely proud of what we had done, but also I felt like there was a hole in my heart now that it was over.
Movie Fanatic: What did you learn from him?
Heather Doerksen: What I learned from him is to really know the world that you're in, really research it. Get in there with your imagination and creativity. Don't hold yourself back. I was also impressed about how he never let anyone censor him and his vision.