Phantom arrives on DVD and Blu-Ray and is a throwback to some of the thrillers we used to see come out of Hollywood all the time (such as The Hunt for Red October). The Cold War submarine, edge of your seat suspense fest stars David Duchovny and Ed Harris. As the Phantom trailer teases, this is the story of a Russian sub commander (Harris) and a rogue KGB agent (Duchovny) who have taken their nuclear submarine off the radar and are keeping the world's powers guessing what they will do next.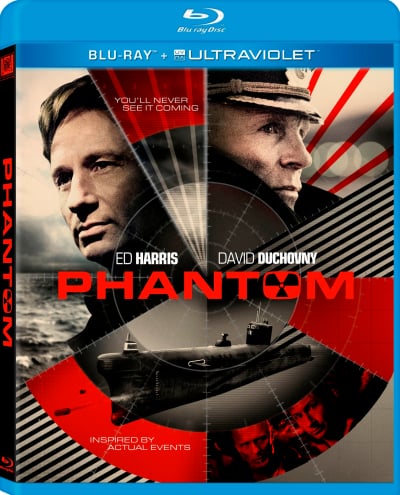 Both the Soviet Union and American leaders are scrambling to not only find the sub, but also stop what they believe could be the start to World War III. The film also stars William Fichtner and contains a slew of bonus features that will surely fan the flames of those who crave more about the subject matter.
The highlights of the extras on the Phantom Blu-ray and DVD are Facing the Apocalypse and The Real Phantom. The latter explores the true to life submarines that operated during the Cold War, which only further adds to the suspense of the film itself. Knowing what these war machines are capable of is utterly terrifying to think that if one (or two) officers in command of such submarines were to do what Harris and Duchovny do in Phantom!
Facing the Apocalypse also presents similar questions for those who lived through the Cold War -- it is fascinating to see how close we could have come to the world simply coming to an end.
For those who are intrigued by the music behind the movies, the bonus feature Jeff Rona: Scoring the Phantom should entertain and the DVD and Blu-Ray is also enhanced by the audio commentary provided by filmmakers that add a framework and compelling backdrop to an already gripping story.