R.I.P.D. Exclusive Giveaway: Win a Visa Gift Card & Movie Swag!
by Joel D Amos at . Updated at . Comments
Jeff Bridges and Ryan Reynolds are joining forces to police the dead in R.I.P.D., landing in theaters July 19 and Movie Fanatic has a chance for you to win a $50 Visa gift card to see the film, an R.I.P.D. T-shirt, sunglasses, a microfiber cloth and a notepad. As seen in the R.I.P.D. trailer, Bridges and Reynolds are deceased cops, who live on in a world where the dead need to be kept under watch, so as to not violently disturb the living.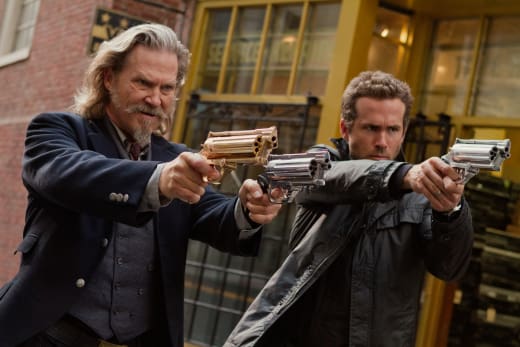 Bridges is a product of his era, the Old West (perfect casting, no?) and Reynolds is a hot shot cop of today who died tragically. The film introduces the concept by following Reynolds and his onscreen partner (Kevin Bacon!) as they tackle a case. When Reynolds meets his maker, his actually winds up meeting Mary Louise Parker (soon to be seen in Red 2… also arriving July 19!), who indoctrinates him into the police force known as R.I.P.D. (Rest in Peace Division).
Use the widget below to enter on Facebook or Twitter. There are three unique ways to enter, and by entering all three ways you can increase your chance of winning. A winner will be announced on July 26. Good luck!