In our Top 10 Movies of 2013 So Far, we called Spring Breakers the film of the year… and now it comes home on DVD and Blu-Ray. Director Harmony Korine knows how to push audiences' buttons, as he did with Kids and Gummo. This time out, he takes a couple of Disney stars (Vanessa Hudgens, Selena Gomez), a Pretty Little Liars star (Ashley Benson) and his wife (Rachel Korine) and sends them on the spring break adventure of a lifetime.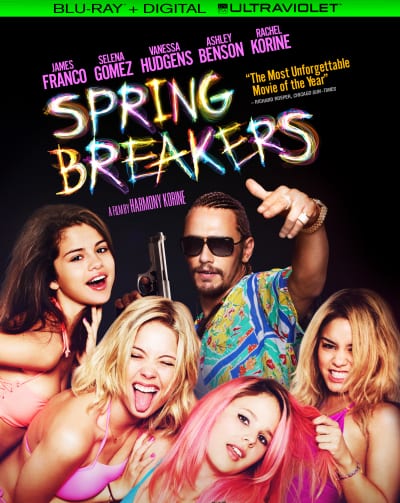 As teased in the Spring Breakers trailer, the quartet portrays four college girls who are tired of their world at their small (minded) university. Everyone else has left for spring break, so what to do? Why not rob a restaurant and head to Florida's favorite beaches to bask in the revelry?
When they get a little too drunk and wind up arrested, James Franco's drug (and arms) dealer and wanna-be rap star bails them out and they suddenly have a kindred spirit willing to live life on the edge of not only what is legal, but what is acceptable in society as a whole.
Korine has pushed the envelope yet again, as we stated in our theatrical Spring Breakers review. This time out he is commenting on several aspects of our society that are in dire need of being debated -- gun violence and the proliferation of a generation of kids who believe they are entitled to success. In both arenas, Korine employs every cinematic means necessary and what he has achieved is not lost on the small screen with its home video debut. Even better, the film's extras delve further into the filmmaker's mastery of his craft.
The three-part documentary Breaking it Down: Behind Spring Breakers is a trio of featurettes that not only give us a glimpse into the mind of Korine, but also his cast and what they sought to bring to their roles in a revolutionary movie. Film Makers: Spring Breakers, Breaking Convention and Spring Breakers Forever are impeccable companion pieces to further bring appreciation to the envelope-pushing film.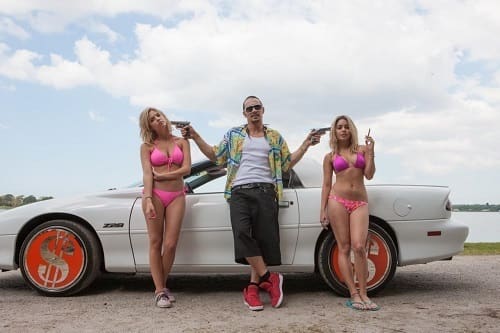 Deleted scenes and outtakes can be mundane on most home video releases, but not so on Spring Breakers. One can see why the deleted scenes were cut, but they further enhance the entire movie experience and those outtakes show how light the Korine set was, even in the face of a serious subject matter.
With Skrillex and Grammy-winning composer Cliff Martinez behind the music, the Harmony's Ear Candy featurette -- An Insightful Look at the Music of Spring Breakers is one bonus feature not to be missed. Beyond the pastel lit brilliance of the film is a soundtrack and score that fits each cinematic moment, literally note-for-note.
And since Spring Breakers is the Harmony Korine show from beginning to end, watching the film with his audio commentary should be required viewing for fans of the film.