The Amazing Spider-Man 2: Andrew Garfield Can "Urinate Easier" in New Spidey Suit!
by Joel D Amos at . Updated at . Comments
Andrew Garfield is the picture of happiness at this year's appearance of The Amazing Spider-Man 2 at Comic-Con. After all, he has finished filming The Amazing Spider-Man 2 and is here in San Diego to talk about his latest journey in the Spidey suit. Speaking of that, there is a new Spider-Man suit and Garfield truly appreciated a certain adjustment. "I was able to urinate easier in this one," Garfield said and laughed. "That was a very friendly adjustment."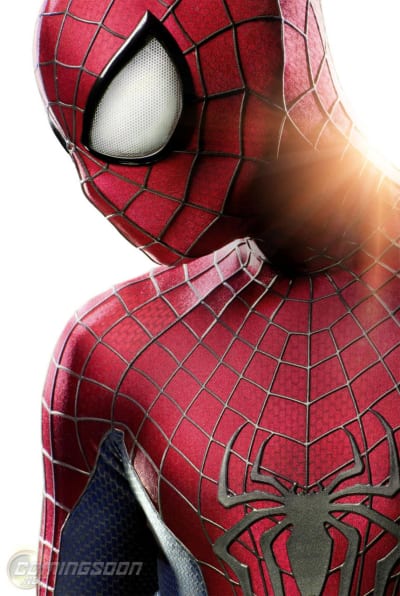 Then, he got practical… well sort of. "The eyes are much bigger and better. You can see more. It's still as tight as it was before. I dig it more. I loved the first one, don't get me wrong. It's increased my ability to urinate, which I need and am quite happy about."
One of the most challenging things for a superhero is to maintain a relationship. How is that relationship going with Gwen while The Amazing Spider-Man 2 fights Electro? "As we all know, relationships can be hard. But, it's especially hard for someone who has to be dedicated to his work. That's part of the struggle he has with Gwen in this story," Garfield said.
"I could be in the middle of a proposal on one knee and suddenly I really gotta go and save a cat from a tree. It's tough to have a life as Peter. It's 24/7. There are no breaks. It's not that you can switch your beeper off… sheesh, who has a beeper anymore?"
When we talked to the actor for The Amazing Spider-Man, he spoke of how it was hard for him to be Spider-Man and easier to be Peter Parker. But, this time out, it's a whole different Peter and Spidey. "In this one, Peter's a mess. Spider-Man's a mess. But, what's important to know is when you meet Spider-Man at the beginning of the film, he's taking great pleasure in his powers and his full control of it," Garfield revealed.

"What I like about Spider-Man now is he has the confidence to not only be heroic, but it's not hard for him to be heroic while he's being a hero to people. What I discovered is Peter is a little brother in a way. Spider-Man gets all the power and the attention and gets to live out his fantasy life, but when he gets home, it's Peter who has all the bangs and bruises. He has to look in the mirror and to see a real boy in the mirror as opposed to this symbol that's greater than any human being. It's complicated, as it should be. Peter Parker has historically been complicated. The more complicated the better."