The Amazing Spider-Man 2: Jamie Foxx Explains Why Electro "Wants to Burn the City Down"
by Joel D Amos at . Updated at . Comments
Jamie Foxx was talking to Movie Fanatic about why he so identified with both sides of the coin that is his role in The Amazing Spider-Man 2. He is both Max and the villain Electro, and Oscar winner Foxx felt a kinship to Max based on their shared upbringing. He described one person he knew coming up as a comic in L.A. that literally turned on him, much like Foxx as Electro does to Peter Parker.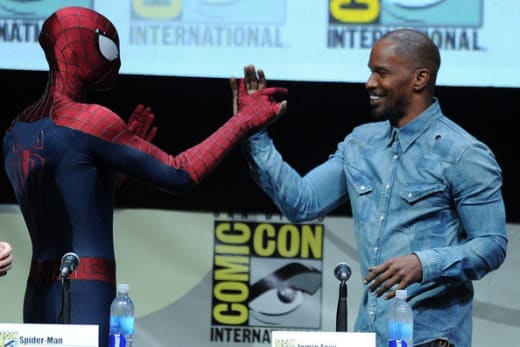 "When I was in L.A., as a young comedian, I had a little situation. There was this gangster dude who would say, 'Whenever you need some help, give me a call.' I needed his help one day, so I took the help. I was indebted to him, so every club I'd go to he'd be like, 'You got me, right?' And I'd say, 'I can only get one in to the club.' And he'd say, 'I got nine with me.' It was this constant thing. I had to stand up and say, 'I don't want to deal with you anymore.' He turned into this villain. So, I took that to the character of Electro."
Foxx knows people like Max. "[In the movie], his father left him. He was married, but we don't go into that. He couldn't get going. For an actor, that's perfect for guys like us. There's a building block. You know if this guy has lost his father, immediately there is something about his character that is different. If he's always seeking his mom's approval, which was a little bit like mine," Foxx said.
"I was adopted at seven months. My mother, I knew at the time, I would wait for her to come into town. I was waiting for her and she was a tough woman. She lives with me now, it's all worked out. The same with Max -- what was great about Mark (Webb, director) was when we set that platform, Electro was not easy, but it makes sense."
Foxx channeled his former gangster friend and his metamorphosis. "When Spider-Man says to Max, 'We're partners.' I saw him taking it to heart. When I turn into Electro, I don't want to let him off the hook," Foxx said. "The fight is more epic. The fact that Electro is not talking a lot, he's just down to business. He wants to burn the city down and he wants to [leans into microphone] get rid of Spider-Man."
As one can tell simply by this Electro The Amazing Spider-Man 2 Comic-Con video, the villain is stern in his evilness.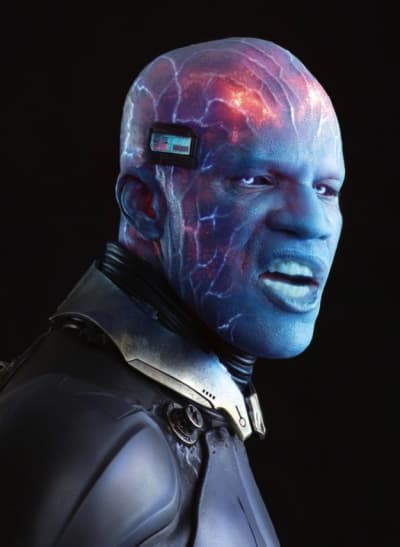 "I wanted Electro to be serious. I wanted him to be a formidable opponent. I saw Andrew (Garfield) out at Chelsea Pier once [before shooting started] and I said, 'Somebody don't like you.' He laughed, but seriously I wanted Electro to be angry."
As we know about what it is that turns Peter Parker into Spider-Man and his motivation for saving people in need, so too Foxx required a similar backstory to ensure the maximum malevolence. It sure appears that they've upped the evil factor from The Amazing Spider-Man.
"We decided we needed three things from Max. He needed to be betrayed by love. He needed to be betrayed by family and he needed to be betrayed by his work," Foxx said.
"We came up with it's his birthday. Even his mom doesn't remember his birthday [crowd says in unison: "ahhh"]. See… that's how you feel! That sets it up. He says to her, 'It's a very special day. Mom, you don't want to say anything.' And she says, 'No, I don't have anything to say to you.' That sets it up so when Electro turns into this guy, there's a little of you saying, 'I understand where he comes from.' It wasn't disturbing. It was great to see that journey."