The Smurfs 2 Exclusive: Hank Azaria Dishes His Favorite Movie Villains
by Joel D Amos at . Updated at . Comments
The Smurfs 2 star Hank Azaria met us for an exclusive video interview for what was a fantastic replica of the place where the sequel to The Smurfs was filmed -- Paris, France.
In a swanky room atop the Paris Hotel and Casino in Las Vegas, we explored his character Gargamel's unique relationship with his cat, who inspired Azaria to be the man of a thousand voices (His work on The Simpsons is merely the tip of the iceberg)... and who his favorite movie villain(s) are and how they rocked his world.
"You know what was terrifying? That child catcher in Chitty-Chitty Bang Bang," Azaria admitted. You want to know who else scared the man who plays evil in The Smurfs world… check out the video below!
As can be seen in The Smurfs 2 trailer, Gargamel has crafted quite a scheme to get inside the world of those little blue creatures. He made his own Smurfs (known as The Naughties) and audiences have to wonder... has he done it this time?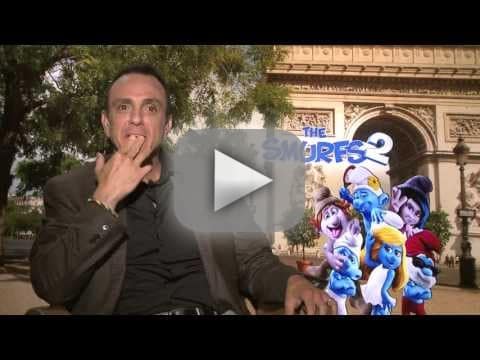 We also wondered, that with a character like Gargamel, it would be easy to go too far with a characterization. Azaria says that there was an edge he had to watch out for. "That was a major concern of mine," Azaria said. "Yeah, you can push it too far."
Check out what Smurfs Neil Patrick Harris and Jayma Mays would create if they could. The Smurfs 2 lands in theaters July 31.