Bill Hader, joined by The To Do List co-star Scott Porter, met Movie Fanatic for an exclusive video interview to talk about the sex comedy that his wife -- Maggie Carey -- wrote and directed. Hader portrays the manager of a local pool where star Aubrey Plaza works after her senior year in college and Porter plays one of the pool's top lifeguards.
Hader, having recently left Saturday Night Live, told us about what type of film career he's looking to forge.
"I did a film with Kristen Wiig called The Skeleton Twins that the Duplass brothers produced," Hader sited as evidence of what types of roles he will seek. "That is very much a drama, and has some comedy elements to it. It was so much fun working with Kristen. We play twins."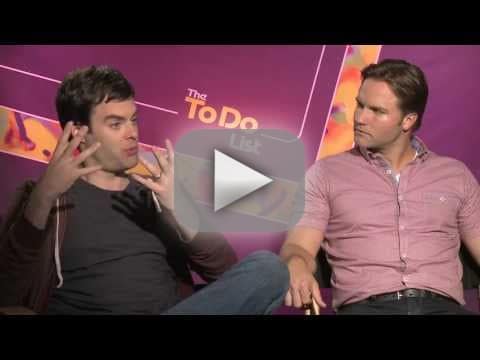 Both also chat up what it is about the coming-of-age comedy that still, after decades of Hollywood movies, manages to be something that people adore watching onscreen. "It's something that people can relate to," Hader said. "But, there's also a lot of comedy fodder to be had during those years."
That comedy-drama feel is all over his latest... Just check out The To Do List trailer and our The To Do List review.