The To Do List Exclusive: Aubrey Plaza Admits What Didn't Make the Sex List
by Joel D Amos at . Updated at . Comments
Maggie Carey wrote and directed The To Do List and we met her and star Aubrey Plaza recently for an exclusive video interview. The pair talked about their coming-of-age sex comedy (teased brilliantly in this The To Do List red band trailer) that features Plaza's valedictorian deciding she must lose her virginity (and more) before she heads off to college… and yes, major hilarity does ensue.
"She's perfect," Carey said. "I love when these Aubrey Plaza moments seep through. In the masturbation scene, there was a moment in there that I could never have written."
You'll have to see the movie to see what Grace is talking about, but it is pure Plaza, especially if you've seen her work on Parks and Recreation.
Aubrey also talked about the differences between being on a hit TV show and filming a movie comedy and what she appreciates out of both. "When you're doing a movie, you have a journey, There's a beginning, middle and end," Plaza said. "When you're on a TV show, you get to know your character so well and that's really cool because there's no end point."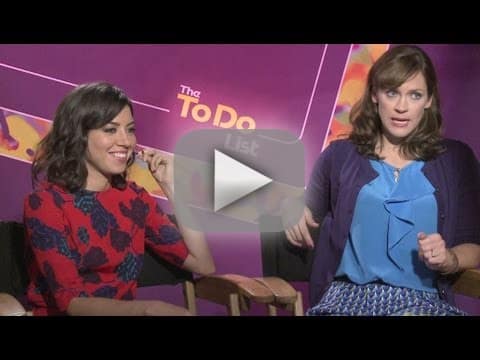 Plaza's character ditches her "To Do List" to get ready for college and replaces it with The To Do List which includes various sexual things to try before she heads off to university. We wondered if anything didn't make it to the list? Check out the video to see the answer about what didn't make The To Do List.