Thor The Dark World: Trailer Arrives August 7, Cast Back for Reshoots
by Joel D Amos at . Updated at . Comments
There's good news, and there's bad news when it comes to Thor: The Dark World. Well, honestly the bad news isn't really that bad. Well, let's start with the good: Thor: The Dark World will have its new trailer premiere August 7 and we cannot wait to see more from the film that was supposed to be at Comic-Con and whose appearance never really materialized.
We expect to be blown out of the water even more than we were for the first Thor: The Dark World trailer.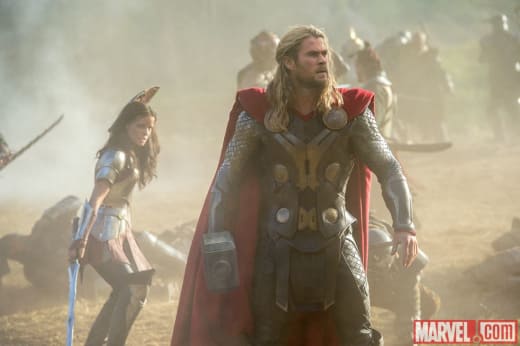 Now, here's the bad news that really isn't all that bad: The cast and crew of Thor: The Dark World have to go back for some reshoots. Star Kat Dennings was talking to IGN and admitted that there were some things that filmmakers wanted to tweak. Now, there was a time when reshoots were the dirtiest of words in Hollywood. But now, films go back for reshoots all the time and it is not necessarily a death sentence for a film.
Heck, The Avengers went back for a reshoot and it was merely to add that restaurant scene that was utterly priceless!