We're the Millers Giveaway: Win a Prize Pack from Jennifer Aniston's New Comedy
by Joel D Amos at . Updated at . Comments
We're the Millers lands in theaters August 9 and features a one-two punch of comedy chemistry that is sure to have theaters full of people laughing their heads off with Jennifer Aniston and Jason Sudeikis. As teased in the We're the Millers trailer, Aniston is a stripper who is enlisted by Sudeikis to pose with him as a family coming back from Mexico.
Joining them are Will Poulter and Emma Roberts to complete the appearance of a family of four cruising back to the U.S.A. in an RV. The only thing is... they're carrying illegal contraband for Sudeikis' boss (played by a wickedly funny Ed Helms).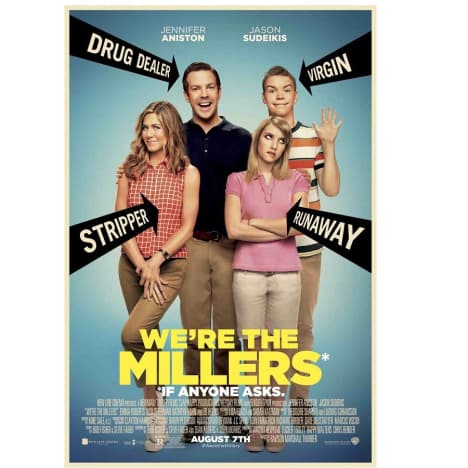 To celebrate the film that is sure to put audiences' funny bones on notice, Movie Fanatic is proud to present an awesome prize pack that celebrates the silly that is this late summer comedy that arrives with special 8 p.m. screenings Tuesday, August 6th and starts everywhere, Wednesday, August 7th. Be the first to see what everyone is laughing about!.
Our grand prize winner will win a We're the Millers prize pack containing:
We're the Millers Black Apron with Telescoping Fork and BBQ Cooler
We're the Millers Folding Chair
NO RAGRETS Black Pullover Hoodie
We're the Millers Beach Towel
We're the Millers Unisex White Stick Figures T-shirt
We're the Millers  Ladies' White Stick Figures Tank Top
Resin Hula Girl
Use the widget below to enter on Facebook or Twitter. There are three unique ways to enter, and by entering all three ways you can increase your chance at winning!
Our grand prize winner will be selected at random on Wednesday, August 14. Good luck!
Don't forget to visit the We're the Millers official site for more on the new film. And to further stay informed on all things We're the Millers, check out the We're the Millers Facebook page, the We're the Millers Twitter page and follow @wbpictures on Twitter.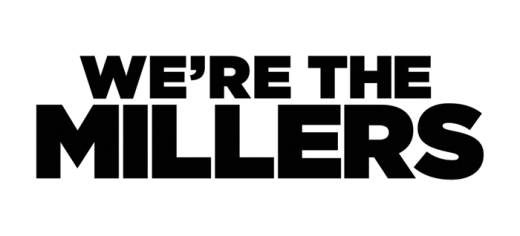 Be sure to enter now as the sweepstakes runs through August 14.
You can also sign up for Warner Bros. special offers, be the first to know movie news, updates and more at:
We're the Millers Synopsis:
From New Line Cinema comes the action comedy We're The Millers, starring Jennifer Aniston (Horrible Bosses) and Jason Sudeikis (The Campaign). The film is directed by Rawson Marshall Thurber (Dodgeball: A True Underdog Story).
David Burke (Sudeikis) is a small-time pot dealer whose clientele includes chefs and soccer moms, but no kids -- after all, he has his scruples. So what could go wrong? Plenty. Preferring to keep a low profile for obvious reasons, he learns the hard way that no good deed goes unpunished when he tries to help out some local teens and winds up getting jumped by a trio of gutter punks. Stealing his stash and his cash, they leave him in major debt to his supplier, Brad (Ed Helms).
In order to wipe the slate clean -- and maintain a clean bill of health -- David must now become a big-time drug smuggler by bringing Brad's latest shipment in from Mexico. Twisting the arms of his neighbors, cynical stripper Rose (Aniston) and wannabe customer Kenny (Will Poulter), and the tatted-and-pierced streetwise teen Casey (Emma Roberts), he devises a foolproof plan. One fake wife, two pretend kids and a huge, shiny RV later, the "Millers" are headed south of the border for a Fourth of July weekend that is sure to end with a bang.
Thurber directs We're The Millers from a screenplay by Bob Fisher & Steve Faber (Wedding Crashers) and Sean Anders & John Morris (Hot Tub Time Machine), story by Bob Fisher & Steve Faber. The film also stars Emma Roberts (The Art of Getting By), Nick Offerman (21 Jump Street), Kathryn Hahn (The Dictator), Will Poulter (The Chronicles of Narnia: The Voyage of the Dawn Treader) and Ed Helms (the Hangover films).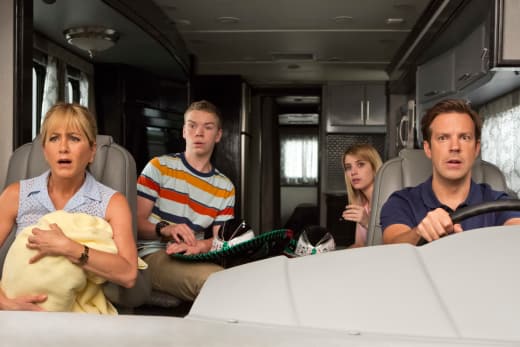 Vincent Newman, Tucker Tooley, Happy Walters and Chris Bender are the producers, with David Heyman, J.C. Spink, Marcus Viscidi, Toby Emmerich, Richard Brenner and David Neustadter serving as executive producers.
Thurber's behind-the-scenes creative team includes director of photography Barry Peterson (21 Jump Street); production designer Clayton Hartley (The Other Guys); editor Mike Sale (The Hangover Part II); and costume designer Shay Cunliffe (The Bourne Legacy).
New Line Cinema's We're The Millers opens nationwide on August 7, 2013, and will be distributed worldwide by Warner Bros. Pictures, a Warner Bros. Entertainment Company.
We're the Millers is rated R for "crude sexual content, pervasive language, drug material and brief graphic nudity."
We're the Millers Prize Pack Release and Indemnification:
By entering the sweepstakes, entrants release and hold harmless Warner Bros. Entertainment Inc. and each of its respective parents, divisions, affiliates, subsidiaries, agents and advertising agencies (collectively,  "WBEI" ) from and against any and all losses, damages, rights, claims, and actions of any kind arising in whole or in part, directly or indirectly, from the sweepstakes or participation in any sweepstakes-related activity (including without limitation the removal from the site of, or discontinuation of access to, any materials), or resulting directly or indirectly, from acceptance, possession, use, or misuse of any prize awarded in connection with the sweepstakes, including without limitation personal injury, death, and/or property damage, as well as claims based on publicity rights, defamation, and/or invasion of privacy.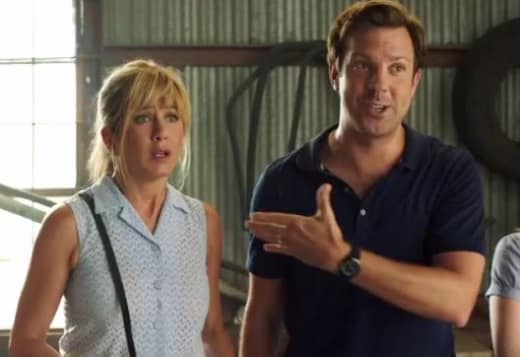 Limitation of liability:
In no event will the WBEI be responsible or liable for any damages or losses of any kind, including without limitation direct, indirect, incidental, consequential, or punitive damages, arising out of any access to and/or use of the sweepstakes site, the downloading from and/or printing material downloaded from the sweepstakes site, the removal from the sweepstakes site of, or discontinuation of access to, any materials, or the acceptance, possession, use, or misuse of, or any harm resulting from the acceptance, possession, use or misuse of, or participation in, any prize awarded in connection with the sweepstakes. Without limiting the foregoing, the sweepstakes, all prizes, and all materials provided on or through the site "are provided as is" without warranty of any kind, either express or implied, including without limitation the implied warranties of merchantability, fitness for a particular purpose, and non-infringement.