X-Men Days of Future Past Cast Shocks Comic-Con: Surprise Appearance Video!
by Joel D Amos at . Updated at . Comments
It was certainly a surprise when the enormous cast of X-Men: Days of Future Past showed up at Comic-Con and Movie Fanatic was there! We were promised a surprise guest after The Wolverine meet and greet and boy, when Patrick Stewart and Ian McKellen led the cast of 16 out onto the stage, they were met with huge applause. We're running the entire video of the event live below… and here are some highlights of what to look forward to: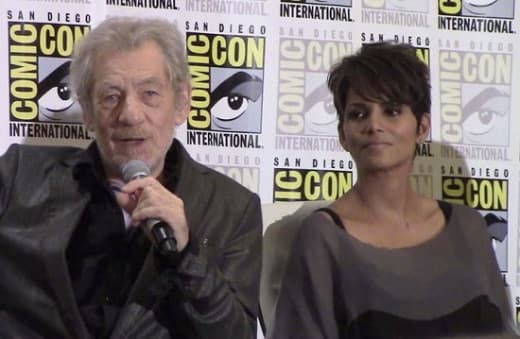 Patrick Stewart said that "the best part of this movie is knowing that, at an earlier time in my life, I was James McAvoy."
McAvoy, ever the quick wit, responded in kind. "And if I'm going to grow up to be someone, who better than Sir Patrick Stewart?" he said.
Not to be left out of the lovefest between actors portraying the same roles decades apart, McKellen looked towards Michael Fassbender as the older Magneto and said, "I'm looking forward to being as dashing and successful as Michael Fassbender."
Nicholas Hoult, who plays Hank McCoy/Beast, said when he arrived on the set -- he kind of had a panic attack. "When you walked into those old corridors for the first time, I looked over and saw Jackman was Wolverine and I kinda panicked," Hoult said. "Those were films I grew up on."
When Jennifer Lawrence won her Oscar, she stumbled up the stairs and audiences adored her even more. Note the spot in the video where she hits herself in the face with the microphone and then jokes. Got to love someone who possesses the power of self mockery. She also had an interesting take on her and Halle Berry's challenges for X-Men: Days of Future Past. "[Gesturing to Berry] She's pregnant, I'm naked. Come see the movie," she said and laughed.
Think this cast has fun together? Check out this highlight from the video below of Fassbender and McKellen talking about Magneto's iconic helmet.
Ian McKellen to Michael Fassbender: Do you get to wear the helmet?
Michael Fassbender: Yes.
Ian McKellen: The best thing about playing the old Magneto is… no helmet.
Michael Fassbender: You don't like the helmet?
Ian McKellen: Oh, no. We'll talk about our helmets another time.
Yes, they do enjoy each other's company. And you know what they say… when the actors on screen are having fun, so too does the audience.
Look for X-Men: Days of Future Past when it hits theaters May 23, 2014. And until then we get our first trailer, enjoy this on set Jennifer Lawrence tweeted picture from director Bryan Singer and Hugh Jackman on set!