The horror genre can be a tired beast, and fans don't respond accordingly. But, filmmakers of You're Next hope they have something truly special on their hands, as teased in the You're Next trailer. We caught up with the director of the film at Comic-Con for an exclusive interview and Lionsgate has given us the film's official poster. Look closely, because the map at the heart of it is the key to the survival of all the characters.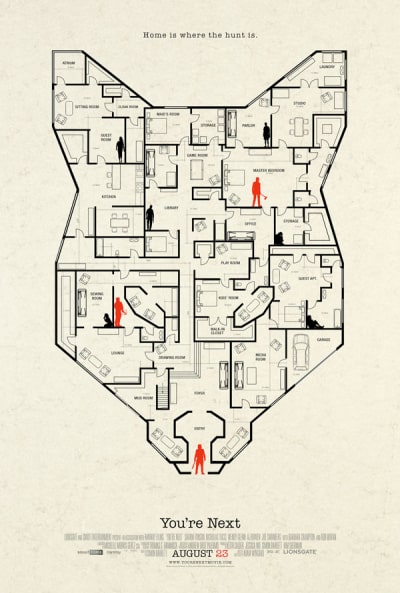 An animal-mask wearing homicidal maniac is loose in someone's house and although escape can be achieved, circumstances make it difficult. Yet, your life hangs in the balance, so memorizing this layout of the house at the center of the horror is the key to getting out alive. This is no Cabin in the Woods with its campy wink to the stuck in a house subgenre of horror. This is terror front and center.
Stay with Movie Fanatic as we publish our exclusive insight into You're Next on July 23.