At Any Price DVD Review: Dennis Quaid Farms a Family Drama
by Joel D Amos at . Updated at . Comments
At Any Price arrives on DVD and Blu-Ray today and the Dennis Quaid-starring film paints modern day farming in a whole new light. Who knew it was so competitive and cutthroat… almost literally!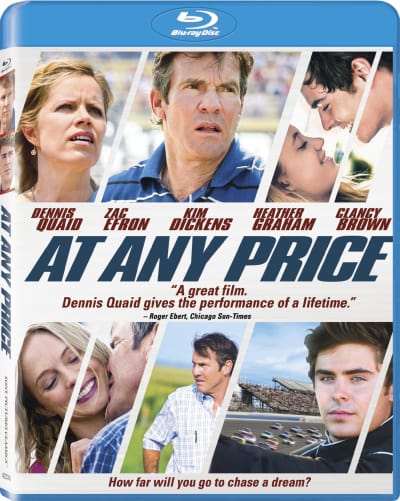 Quaid stars as a moderately successful farmer who has two sons that he hopes will take over the family business. When the oldest son goes off to college and never returns, he looks to his youngest (Zac Efron), who is more interested in becoming a NASCAR star than managing the farm and exploring the budding field of seed selling.
As seen in the At Any Price trailer, there is much more to this film than the story of a father and a son and their differing of opinions as to the latter's future. There is murder, suspense, adultery… but above all else, it should give viewers a greater sense of what it means to be a farmer in the world today.
Quaid gives an outstanding performance, as we stated in our theatrical At Any Price review. And Efron meets him note-for-note. Where the film goes a little off track is when it can't quite figure out what kind of movie it wants to be. There's a cover-up, affairs and double-crosses… it's simply too much for the 100 or so minutes that the film inhabits. But, what works… works well.
Heather Graham, last seen in The Hangover Part III, also stars in director Ramin Bahrani's film that should find more of an audience than it did in theaters -- it's a perfect venue for this movie.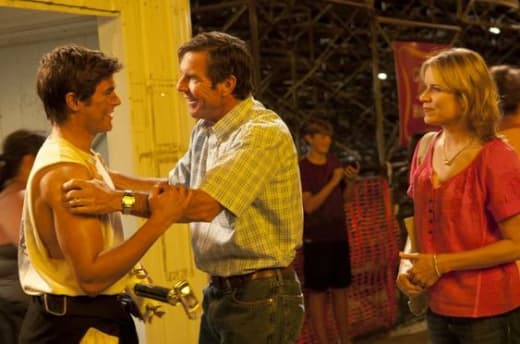 When it comes to extras, the one that pops out at us is the audio commentary track with director Bahrani and Quaid. These two have such a connection, might we even recommend watching the film the first time with this track accompanying the drama. I'd watch out for Quaid and Bahrani working together in the future, they have such solid chemistry and it comes through particularly when they are talking about what it took to get At Any Price made.
The Toronto Film Festival interview with the cast is also a nice addition to the DVD and Blu-Ray, as are the four rehearsal scenes that are included. Normally with DVD and Blu-Ray releases, audiences get deleted scenes or extended scenes. We have to give it to the At Any Price home video for actually showing us how these pivotal scenes came together: In rehearsal!