Bad Grandpa Poster: Johnny Knoxville Ages Hilariously
by Joel D Amos at . Updated at . Comments
Given what we've seen in the Bad Grandpa trailer, Paramount could not have chosen a better photo to serve as the first poster for Jackass Presents: Bad Grandpa.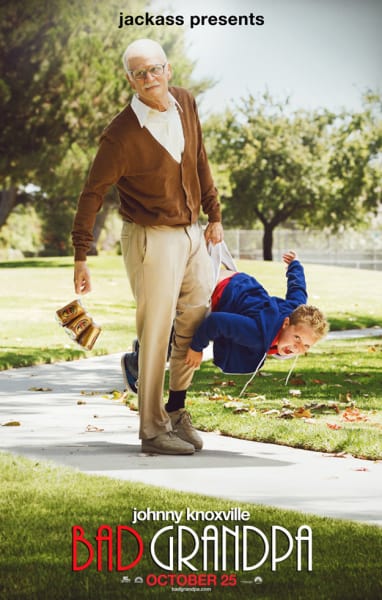 The film stars Johnny Knoxville as a character he recently created named Irving Zisman. The crux of the film finds Knoxville using his alter ego in a series of hidden camera-type pranks where the old cat is simply himself, to the horror and amusement of those unsuspecting souls who now can claim they're in a big Hollywood movie.
Zisman is horny, inappropriately vocal and is joined by his "grandson," Billy (Jackson Nicoll), in a series of sure-to-be-hilarious bits.
If one wants to get the feel of Bad Grandpa, simply look at the above poster of the star, who most recently showed this type of humor in Jackass 3D, holding Billy and a six pack. After all, nothing says "bad" Grandpa like taking care of your grandson by carrying him and some beer around.