Blue Jasmine: Peter Sarsgaard Talks Woody Allen "Unusual Experience"
by Joel D Amos at . Comments
Peter Sarsgaard (currently "killing" it in The Killing) tells us exclusively in our video interview that he actually auditioned for Woody Allen before and didn't get the part. So, you can imagine the acclaimed actor's joy at hearing that he scored a part in the filmmaker's Blue Jasmine opposite Cate Blanchett.
"I auditioned for Everyone Says I Love You… and I was really bummed out that I didn't get it," Sarsgaard admitted. "It's always something that I wanted to do. When I heard he was interested in me for this movie, I didn't even need to read the part."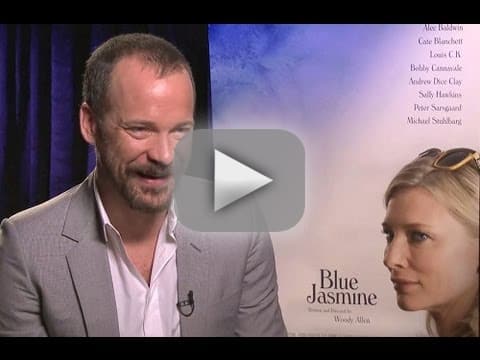 As we stated in our Blue Jasmine review, the film is one of Allen's great works of late, and that is saying something. That is largely due to the Oscar-worthy performance given by Blanchett. Previewed in the Blue Jasmine trailer, Sarsgaard portrays a love interest of Blanchett and the actor was more than thrilled to spend most of his time opposite the esteemed actress.
But, given Allen's penchant for only showing parts of the script to some of his actors, Sarsgaard admitted he was in the dark as to the full arc of Blanchett's character.
"The audience seems to root for her to get with me. Actually, I didn't understand what was happening," he said and laughed. "She's having a nervous breakdown and I don't know why!"