A new photo of Jennifer Lawrence as Katniss has premiered from Catching Fire, courtesy of Entertainment Weekly. In it, Lawrence's Katniss is looking quite serious. But, then again, Katniss has every reason to always be so stern.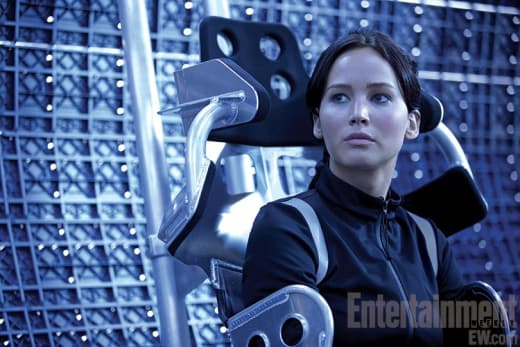 The Hunger Games: Catching Fire trailer has got us excited for Francis Lawrence taking over for Gary Ross and from the look of Catching Fire stills so far… he has got it just right.
Catching Fire picks up as Katniss returns home to District 12 as the winner of the 74th annual Hunger Games, with her co-champ Peeta. Soon after visiting with relatives, the duo must leave home again and this time out, go on a "victory tour" that celebrates their win. Only thing, that victory lap is short-lived as President Snow has other plans for his recent victors.
The 75th Annual Hunger Games will mark the Quarter Quell and this time, it means an all-star Hunger Games battle to the death. Meanwhile, revolution seems to be brewing, and with this particular Games, Snow hopes the strong message will be received by his charges, and they will get in line.