Sure, it seems like forever, but today marks the 100 days and counting countdown march to the premiere of The Hunger Games: Catching Fire. If you think about it, the premiere of The Hunger Games on March 12, 2012 kind of seems like yesterday… so those 100 days should fly.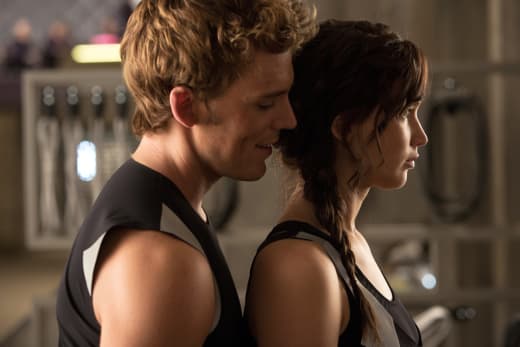 Lionsgate announced today that what has been teasing us in the Catching Fire trailer will premiere on November 11, 2013 in London. The debut in theaters across the world sits merely 100 days from now on November 22.
The sequel to The Hunger Games finds Katniss and Peeta celebrating their victory with a Hunger Games Victory Tour, only to discover that they have to go back in "the ring" and fight a group of Hunger Games all-stars in a battle to the death. Seems that that little firecracker Katniss has set off a spark that has the smolderings of a revolution and President Snow wants her dead… but in an official capacity as a contestant in the all-star Hunger Games.
The first film made over $700 million in box office and we expect the sequel to top that figure. The Hunger Games cast members Jennifer Lawrence, Josh Hutcherson, Liam Hemsworth, Elizabeth Banks, Lenny Kravitz, Woody Harrelson, Stanley Tucci and Donald Sutherland all return. New to the franchise are Philip Seymour Hoffman, Jena Malone and Jeffrey Wright.