Dark Tourist Exclusive: Melanie Griffith & Michael Cudlitz Find Romance Amongst Terror
by Joel D Amos at . Comments
Dark Tourist stars Melanie Griffith and Michael Cudlitz have quite a bond, and it's easy to tell that in our exclusive video interview. We met the two at the Four Seasons Hotel in Beverly Hills -- a site that could not be further from the dark world of Dark Tourist. As seen in the Dark Tourist trailer, Cudlitz is the titular person… someone who uses their vacation to visit the sites of gruesome murders.
Along the way, he meets Griffith's waitress, herself also a wounded soul. They bond over their shared pain, but will their pasts keep them from finding any kind of hopeful future?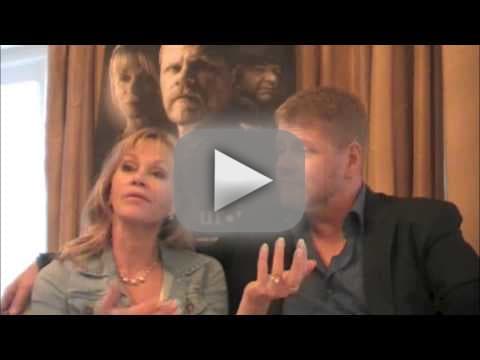 After his turn on the acclaimed Southland and Griffith feeling that the "great" roles are few and far between, each credit Frank John Hughes' terse script with getting them back on the silver screen. And then, there's director Suri Krishnamma.
"The wonderful thing about the entire film is that everyone who got involved with the production was on the same page," Cudlitz said. "I prefer a director who is basically the right director because they know how to step back and let the film happen. [Suri] was in our heads. He knew what was going on, top to bottom."
"Suri is so extremely intelligent," Griffith added. "He has such a cool way of telling a seriously (expletive) up story!"