The first official trailer for Divergent is debuting merely hours from now, but we got our first look when the Divergent teaser trailer premiered just days ago. Summit Entertainment, to get those of you who aren't so familiar with the world created by author Veronica Roth, has released an infographic that breaks down the Divergent factions in one photo that frankly… says it all.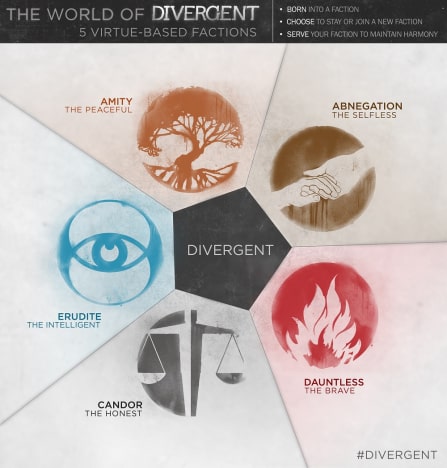 The story of the film follows Shailene Woodley as Tris Prior, who doesn't quite fit into any of the five factions and therefore is labeled a Divergent.  When she discovers a plan to have all those who are deemed Divergent wiped off the planet, she feels she has no choice but to unite them in a fight for their lives. That battle may lead to a complete disruption of the entire society.
Divergent stars not only the up-and-coming Woodley, but also Theo James, Jai Cortney (A Good Day to Die Hard), Maggie Q, Tony Goldwyn, Ashley Judd, Mekhi Phifer and Kate Winslet.